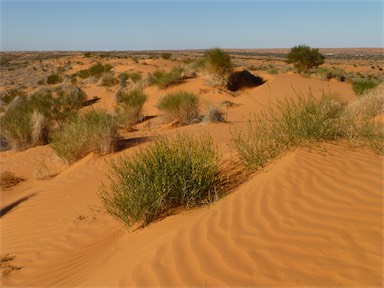 Swainsona laxa (foreground) and Acacia ligulata (distance) on crest of longitudinal dune, Simpson Desert, NT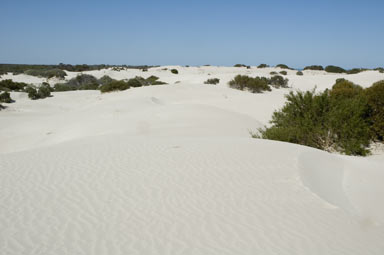 Sand dunes


Desert Sand Dunes
The Australian Arid Zone contains the most spectacular and largest longitudinal dune systems in the world. The first dune systems were created during arid and windy glacials around 900,000 years ago in the Lake Amadeus region in Central Australia. Because these cycles of glacial and interglacial were repeated, it is very difficult to determine the exact age of sand dune deserts. Thermo luminescence has been used to determine the age of sand dune particles. Core samples in the Simpson Desert taken by the University of Wollongong suggest it is only around 20,000 years old. Present theory suggests most of the current dune systems in Australia were formed by a dominating sub tropical anti cyclonic air system which has prevailed over the Australian continent for the past 20 to 30,000 years, continually picking up dust and sand from depot centres and depositing it as vast longitudinal dunes, many over 100kms in length.
The vegetation varies from desert to desert, however there are some commonalities. There are several vegetation groups and micro ecologies within sand dune systems. The longitudinal dunes support an entirely different vegetation to that of the interdunal corridors or swales. The most common plant groups in the Simpson and Great Victoria dune fields are Chenopodiaceae (saltbushes), Asteraceae (daisies and composites) and Poaceae (grasses). The tops of the ridges are demobilised by binding plants such as Sandhill Canegrass Zygochloa paradox.
Coastal Sand Dunes
Constructive waves and currents drive sand ashore, on warmer, windy days, onshore winds roll and lift individual sand grains, pushing them up onto the drier, higher surfaces to shape a dune. Each dune will have a slope smoothly rising to a crest, over which the incoming sand grains tumble and fall to form a steep slope in the calm air behind the dune's crest. Once the dune has formed, the first rains will soak in and a wet zone will form in the dune's core; some water may also collect on the the inner dune swale floor organic debris, such as leaves blown into the quiet inter-dune air, all fall down between the dunes, gradually building up the organic matter in damp, sandy soil. Plants thrive in this warm, moist, quiet place and in places a kind of "rainforest" may Meanwhile, pioneer plants such as Pigface, Spinifex ssp., convolvulus and acacias colonise the more unstable areas, holding the dunes in place stormy seas sweep the beach and undercut the dune. Plant surfaces exposed to the sand blast are cut and wind-pruned to fit the flow pattern. However, global warming and rising sea levels destabilise the dune-creation process. If sea-level rises continue, saltwater will sweep far inland, covering coastal plains and smothering some of our most fertile and populous lands.

Sand Dune photos from the Australian Plant Image Index
Map showing arid dune orientation
a. Ngalia Basin
b. Carnarvon Basin
c. Murray Basin
d. Canning Basin
A. Great Sandy Desert
B. Tanami Desert
C. Gibson Desert
D. Great Victoria Desert
E. Simpson Desert
F. Sturt's Stony Desert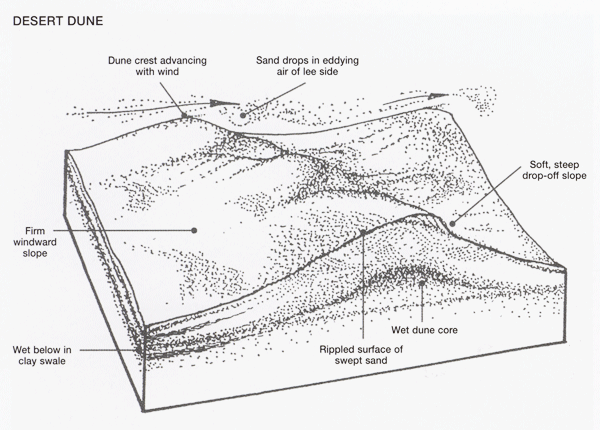 COASTAL SAND DUNE