Mangroves


Mangroves occur as tall forests through to shrublands in the intertidal zone along those parts of the coast subject to low wave energy.


Mangroves vary from extensive, tall, closed, forest communities on Cape York Peninsula through to low open forests or shrublands in southern regions.


Samphires are found on coastal mudflats and marine plains, adjoining mangrove areas in many instances, but also cover extensive marine plains inland from the southern Gulf of Carpentaria and other parts of the tropical north.
Clearing or infilling of mangroves has occurred in coastal areas near urban major centres for industrial uses or urban developments.

Photos from the Australian Plant Image Index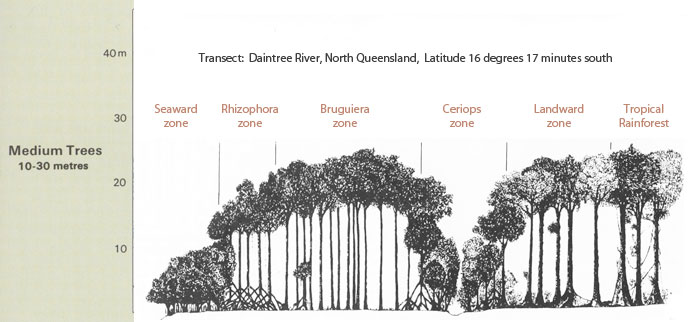 Transect: Daintree River, North Queensland. Latitude 16° 17' south
The Seaward zone is narrow and may be either Sonneratia alba or Avicennia marina. The Rhizophora zone is mainly Rhizophora stylosa with minor Rhizophora apiculata. The Bruguiera Zone is composed mainly of Bruguiera gymnorhiza with distinct stands of Bruguiera parviflora. The Ceriops zone only occurs in open areas and minor tidal channels. In this zone may be found Ceriops decandra, Lumnitzera littorea, Excoecaria agallocha, Cynometra ramiflora and Scyphiphora hydrophyllacea. In the landward zone an association of Bruguiera gymnorrhiza, Xylocarpus granatum, Xylocarpus australasicus and Heritiera littoralis which at the top of the highest tide merges with tropical rain forest (Tall Closed Forest).


Transect: Pulgul Creek, southern Queensland, latotude 25° 20' south
The Seaward zone of Avicennia marina is very narrow. The Rhizophora zone is represented by Rhizophora stylosa. The Bruguiera zone is dominated by Bruguiera gymnorrhiza The Ceriops zone is a broad zone dominated by Ceriops tagal with extensive bare hypersaline areas. The Landward zone is made up of mature Avicennia marina together with Ceriops tagal, Lumnitzera racemosa, Excoecaria agallocha, Aegialitis annulata, and aged Bruguiera gymnorrhiza. In areas of fresh water seepage Aegiceras corniculatum occurs.


Transect: Westernport Bay, Victoria, Latitude 38° 45' south
Only one species, a dwarfed, many-stemmed form of Avicennia marina is found at this latitude, fringing salt marsh also growing below the level of the highest tide.