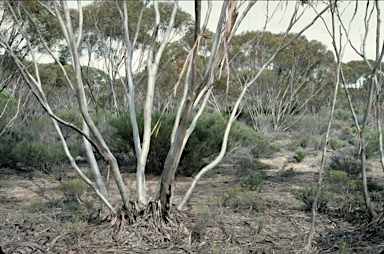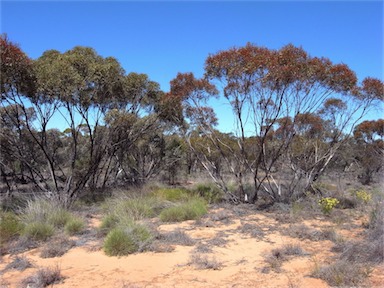 Foliage cover of tallest stratum 30 - 70%
Foliage cover of tallest stratum 10 - 30%
Mallee Woodlands and Shrublands


Mallee eucalypts are multi-branched from ground level, usually with a flattened canopy rarely exceeding 6m in height. They grow from a woody underground rootstock called a lignotuber and are generally found on harsh sites.


This vegetation occurs in the winter rainfall belts of semi-arid areas in southern Australia, in south-western New South Wales, north-western Victoria, southern South Australia and in the south-west of Western Australia.


Widespread mallee species include Eucalyptus dumosa (white mallee), E. socialis (red mallee), E. gracilis (yorrell), E. oleosa (glossy-leaved red mallee), E. incrassata (ridge-fruited mallee) and E. diversifolia (soap mallee).


Co-dominants can include other Eucalyptus spp. with a tree form and species of Melaleuca, Acacia, Allocasuarina and Hakea.
Mallee Woodlands and Shrublands in Victoria and parts of South Australia and Western Australia have been extensively cleared, with only isolated remnants in some areas. They remain widespread in the arid zone of South Australia and Western Australia.

Photos from the Australian Plant Image Index