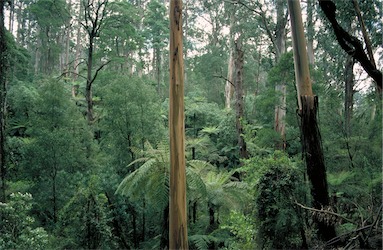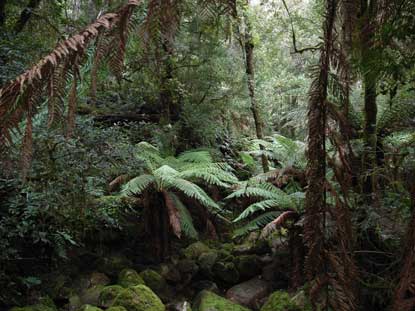 Foliage cover of tallest stratum 30 - 70%
Eucalypt Tall Open Forests


Contain trees over 30m tall and reaching heights of 100m.


Include the tallest tree species in Australia and the tallest flowering plant in the world, Eucalyptus regnans (mountain ash), found only in Tasmania and Victoria.


Restricted to all but the wetter areas of eastern Australia from the margins of the rainforests of northern Queensland through to Tasmania, and the south-west of Western Australia, often in rugged mountainous areas.


Typified by a well-developed, often broadleaved shrubby understorey or sometimes tree ferns.
Mostly found adjacent to, or in association with, rainforest communities. Extensive areas of this MVG were cleared for agriculture and grazing in the nineteenth and early twentieth centuries, particularly where they occurred on flatter land in areas associated with better agricultural soils. Major areas remain today in crown reserves as national parks or state forests.

Photos from the Australian Plant Image Index