In Flower This Week
A news sheet prepared by a Gardens' volunteer.
Numbers before each plant refer to temporary IFTW labels in the gardens.
Numbers in square brackets [ ] refer to garden bed Sections. Plants in flower are in bold type.
View past issues of 'In Flower This Week'.
3 February 2016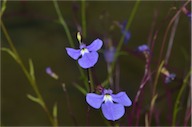 Lobelia andrewsii
click for larger image
Today we will walk from the Visitor Information Centre (VIC) to the Red Centre Garden (RCG).
Look left as you leave the VIC to see in a pot on your left Lobelia andrewsii [Section 221], with long thin stems with green foliage and bright blue two-lipped flowers with white centres. It is found in the wild along the coasts of New South Wales and Queensland.
Also on your left in a pot is Rhododendron viriosum [Section 221], with magnificent coral bell flowers and shiny dark green leaves. This is one of the few representatives of this genus in Australia and is found in the high mountains of tropical northern Queensland.
Bear left past the rear of the café to see on your right Crinum pedunculatum [Section 246], with long green strappy leaves and terminal clusters of white perfumed flowers. This plant is found on tidal flats in coastal Queensland and New South Wales.
Further up the hill on your right is Backhousia citriodora [Section 78], or Lemon Ironwood, a small tree with shiny green leaves and large, white, fluffy heads of flower. It is endemic to the tropical rainforest areas of Queensland between Brisbane and Mackay. The leaves of this plant are strongly lemon-scented.
Leptospermum amboinense [Section 104] is on the left showing masses of small white "tea tree" flowers on weeping foliage. It occurs naturally in Queensland and also in south-east Asia.
A Hibiscus splendens hybrid [Section 104] is a large rangy bush with bright lipstick pink flowers and broad coarse foliage.
Turn left to see Chrysocephalum apiculatum [Section 17] on your right with bright golden "button" flower-heads on grey-green foliage. This plant is is found in all states and territories in Australia in a variety of environments.
Further along the road on your right is Anigozanthos flavidus [Section 15h], or Tall Kangaroo Paw, in a rusty orange shade. All kangaroo paws are native to Western Australia and the flowers are bird-pollinated.
Westringia 'Deep Purple' [Section 15h] has mauve flowers on a compact green bush. The cultivar was selected from a form growing in the Wild Rivers region of New South Wales.
Turn left up the hill towards the RCG. On your left is Acacia oshanesii [Section 3], native to coastal New South Wales and Queensland. This small tree has fine dark green divided foliage with fluffy pale yellow balls of flowers.
Further on your left is Pandorea jasminoides 'Southern Belle' [Section 34], a vigorous, long-flowering hybrid vine, with pink flowers with darker centres.
As you turn right towards the Red Centre Garden on your right is Brachyscome multifida 'Roulette' [Section 44], which forms a close groundcover of ferny green leaves with mauve flower heads with gold centres.
Further on your right is Swainsona galegifolia [Section 44], or Darling Pea, a small shrub with divided grey-green foliage and pink pea flowers and prominent seed pods. It grows naturally in inland New South Wales and Queensland.
Bear left as you enter the RCG to see in a pot on your right Calandrinia balonensis [Section 326], or Broad Leaved Parakeelya, a low plant with purple flowers on wiry stems above bright green succulent foliage.
Further on your right are circles of Triodia scariosa [Section 326], or Porcupine Grass, which is found across southern inland mainland Australia. It forms very prickly hummocks and has attractive seed heads.
Rosalind Walcott