In Flower This Week
A news sheet prepared by a Gardens' volunteer.
Numbers before each plant refer to temporary IFTW labels in the gardens.
Numbers in square brackets [ ] refer to garden bed Sections. Plants in flower are in bold type.
View past issues of 'In Flower This Week'.
20 January 2016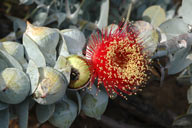 Eucalyptus macrocarpa subsp. elachantha
click for larger image
Today we will visit the Rock Garden.
On the right in front of the waterfall is Lythrum salicaria [Section 15v], or Purple Loosestrife, with plumes of pink-purple flowers on light green foliage. This plant is widely distributed throughout Europe, Asia North America and Africa as well as Australia.
Eremophila christopheri [Section 15v], also on your right, has mauve bell flowers on a small bush with bright green leaves. It is found in the wild in southern parts of the Northern Territory. It is named after Christopher Giles who first collected this species.
Next to the eremophila above is Eremophila oldfieldii subsp. angustifolia [Section 15v], with fresh green linear foliage and bright salmon pink tubular bell flowers with prominent green sepals. This shrub occurs naturally in southwestern Western Australia.
Teucrium racemosum [Section 15v] is a delicate small bush with narrow silvery leaves and white flowers with a prominent lip. The species grows naturally right across mainland Australia.
Turn right up the steps to notice on your left Hibbertia serpyllifolia [Section 15c], or Hairy Guinea Flower, showing very fine light green foliage with 5-petalled lemon-coloured flowers in profusion. It occurs in the wild in southeastern mainland Australia and Tasmania.
On your right is Grevillea 'Poorinda Royal Mantle' [Section 15d], with red "toothbrush" flowers on a vigorous sprawling groundcover.
Chrysocephalum apiculatum [Section 15d], low on your right, has bright golden-orange button flower heads on grey-green foliage. This plant is found in all states and territories in Australia in a wide range of environments.
Calocephalus lacteus [Section 15b], or Milky Beauty-heads, is on your left with small white ball-like flower heads on a grey-green groundcover. It occurs naturally in south-eastern New South Wales, Victoria, Tasmania and South Australia.
On your right is Calostemma purpureum [Section 15f], or Garland Lily, with clusters of pink bells on thin stems. lt is a well-known plant of the Riverina district, and is found in western New South Wales, north-western Victoria and South Australia.
Grevillea albiflora [Section 15g], or White Spider Flower, on your left, is a large sweet-smelling bush with long needle-like grey foliage and white brushes of flowers with prominent styles.
Turn right again and go across the plank bridge to see on your left Acacia aneura var. aneura [Section 15l] or Mulga, with fine grey-green needle foliage and short rods of yellow flowers. Mulga occurs in inland Australia, and individuals are believed to live as long as 400 years.
On your right, in a pot, is Grevillea plurijuga [Section 15p] with fresh green upright foliage and long stems ending in purplish-pink flowers. It grows naturally near Esperance, Western Australia.
On your left is Beaufortia decussata [Section 15r], a small shrub with red fluffy flowers with green centres and neat, close foliage. The species name decussata refers to the leaf arrangement where each pair of leaves is arranged at right angles to the previous pair on the stems.It grows naturally in southwestern Western Australia.
Go down the steps to see on your left Alyogyne huegelii 'Misty' [Section 15r], a very attractive plant with green foliage and pale mauve flowers with maroon centres.
Eucalyptus macrocarpa [Section 15s], or Mottlecah, on your right has striking grey sword-like foliage and very large pinkish-red fluffy flowers with yellow stamens. It grows naturally in southwestern Western Australia.
Rosalind Walcott