In Flower This Week
A weekly news sheet prepared by a Gardens' volunteer.
Numbers before each plant refer to temporary IFTW labels in the gardens.
Numbers in square brackets [ ] refer to garden bed Sections. Plants in flower are in bold type.
View past issues of 'In Flower This Week'.
5 March 2014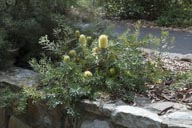 Banksia marginata 'Cape Patterson Dwarf'
click for larger image
Today we start at the café and walk around the Main Path.
Just outside the café on the left is a medium-sized bush of Correa alba [Section 131] with grey-green leaves and white star flowers. This correa is a popular and reliable plant in the garden. It is native to southeastern coastal regions of Australia, ranging from northern NSW to eastern South Australia and into Tasmania.
Nearby is a large bush of Syzygium australe [Section 131] with fluffy white flowers and red drooping fruit.
Further along the path on the right is Correa 'Summer Belle' [Section 240] with pink bells with greenish tips. 'Summer Belle' was developed from a seedling found growing in the garden of Neil Marriott of Stawell, Victoria.
Continue along the Main Path as it wends its way uphill through grass trees and waratahs. On the left is Banksia ericifolia var. ericifolia [Section 30] with green developing flower-heads which mature into long gold candles on bright green heath-like foliage. Heath-leaved Banksia is one of the best­known members of the genus, having been in widespread cultivation for many years.
Just around the next corner on your right is Grevillea phanerophlebia [Section 27], or Prominent Vein Grevillea, with white starburst terminal flowers on an airy bush. This Western Australian plant is threatened in the wild.
A little further on and to the left is Callistemon 'Reeve's Pink' [Section 30] with bright pink brush-like flowers in profusion. This callistemon was developed from a chance seedling of uncertain parentage which originated at the nursery of Mr Reeve Snr. at Cheltenham, Victoria.
Just before crossing the road look to the right for Grevillea 'Coconut Ice' [Section 25], with large pink/orange spider flowers with long red styles. It is a hybrid plant grown from seed collected from G. bipinnatifida. The male parent was a white-flowered form of G. banksii. The seedling was raised by Mr. M. Hodge of Queensland.
On the far side of the road is Banksia marginata 'Cape Patterson Dwarf' [Section 26] on the right is an unusual small version of our common local Banksia marginata. It has short lime-green candles on dark green leaves with silver undersides.
Just a little further on and to your right is Persoonia acerosa [Section 26], or Needle Geebung. It has yellow spiky flowers at the ends of bright green foliage.
On the right after crossing the next road is Correa 'Marian's Marvel' [Section 112] with flared pale pink bells with greenish tips. This beautiful cross between C. reflexa and C. backhouseana arose in the garden of Mrs Marion Beek of Naracoorte, South Australia.
On the left is Acacia linifolia [Section 191e], a small tree with sweetly-scented pale yellow balls on fine needle-like foliage. This wattle will tolerate shade and is very hardy.
After crossing the Eucalypt Lawn, on the left is Podolobium aciculiferum [Section 18] with long-lasting yellow pea flowers on spiky triangular foliage.
Further on the left is Acacia subulata [Section 18], or Awl-leaf Wattle, with airy fine foliage and scented yellow balls of flower for long periods of time.
Look up on your left to see Acacia parvipinnula [Section 18], or Silver-stemmed Wattle, which is a tree of ferny foliage and yellow balls of flower. Continue on the Main Path down to the Rockery.
After passing the waterfall, leave the Main Path and turn left onto the road down the hill towards the café. On your right is Epacris longiflora [Section 110], or Fuchsia Heath, showing red tubular flowers with white tips on a spiky bush of close foliage.
Rosalind Walcott