In Flower This Week
A weekly news sheet prepared by a Gardens' volunteer.
Numbers before each plant refer to temporary IFTW labels in the gardens.
Numbers in square brackets [ ] refer to garden bed Sections. Plants in flower are in bold type.
View past issues of 'In Flower This Week'.
1 November 2013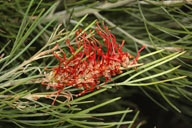 Grevillea tetragonoloba
click for larger image
This selection of flowers worth viewing can be found in the Western Mallee section, close to the developing Red Centre Garden. To arrive there, follow the marked road from the Visitors Centre and start the walk at the Ducrou Pavilion.
The Red Centre Garden is well worth seeing. Edging the road are Native Tobacco plants, Nicotiana rosulata subsp. ingulba, displaying large open white flowers.
Opposite is a bed of Chrysocephalum apiculatum [Section 300], with small rounded yellow flowers on long upright stems.
Green Mallee, Eucalyptus viridis subsp. viridis [Section 300], is of medium height with many branches showing its cream flower clusters.
Grevillea tetragonoloba [Section 100b], with branches towards the road, has red toothbrush-like flowers among the fine divided leaves.
Melaleuca radula [Section 100b] is an upright plant with a canopy of lovely fluffy mauve flower balls.
Take the right-hand path and then the board walk to the right where an emu bush, Eremophila christopheri [Section 100a], has an abundance of mauve tube-shaped flowers edging its stems.
Many Kangaroo Paws are now bearing buds. Anigozanthos 'Kings Park Federation Flame' [Section 100b] can be seen here with deep rust-red flowers on long upright stems.
Opposite is Adenanthos obovatus [Section 100a], a small upright plant with long-styled red flowers edging the stems.
Melaleuca fulgens [Section 100b] is of medium height and bright with orange bottlebrush-like flowers.
Eremophila bignoniiflora x polyclada [Section 100b] is an ageing shrub with wandering branches. Its large white flowers are bugle-shaped and have spotted throats.
Alyogyne huegelii [Section 100b] bears large white hibiscus-like flowers.
Opposite in a group is Dampiera dysantha [Section 100a], a small suckering plant displaying its intensely blue flowers.
Here too is Pimelea lehmanniana [Section 100a], with many upright stems having large terminal cream flower heads.
Around the curve is Boronia crenulata var. crenulata [Sections 100b, 100c], as yet small plants clad with tiny pink flowers.
Behind are Feather Flowers, Verticordia chrysantha [Section 100a], small plants bright with a canopy of yellow flowers.
Rounding the corner, Chorizema cordatum [Section 100a] is a rounded heap of branches clad with small red-orange pea- shaped flowers. (At this point there is also a good view of the Red Centre Garden below.)
Grevillea tripartita subsp. macrostylis [Section 100c] is an open upright shrub with sharp-pointed leaves, artistically decorated with cream-red flowers with long red curved styles.
Pelargonium rodneyanum [Section 100c] is a low spreading plant with soft geranium-like leaves and magenta flowers.
Hibbertia cuneiformis [Section 100c] has bright yellow flowers over the dense shrub.
Micromyrtus ciliata [Section 100a] is another attractive low mounded plant, clad well with dull red flowers.
Senna artemisioides [Section 100a] is a low-growing plant bright with open yellow flowers.
Southern Cross, Xanthosia rotundifolia [Section 100c] is a low rambling plant seen among other plants, with unique flower heads which form a white cross.
Returning to the road, on the opposite side view the group of Pimelea ferruginea 'Magenta Mist' [Section 41], with heads of deep pink flowers.
Barbara Daly