In Flower This Week
A weekly news sheet prepared by a Gardens' volunteer.
Numbers before each plant refer to temporary IFTW labels in the gardens.
Numbers in square brackets [ ] refer to garden bed Sections. Plants in flower are in bold type.
View past issues of 'In Flower This Week'.
25 October 2013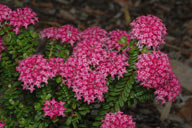 Pimelea ferruginea 'Magenta Mist'
click for larger image
Banks Walk is an avenue of colour which includes, in a pot, Sturt's Desert Pea, Swainsona formosa, exhibiting its large dark-centred red pea-shaped flowers.
Rock Lillies, Thelychiton pulcherrimus, with large leaves and long sprays of white or cream flowers continue to flourish opposite the Visitor Information Centre doors.
Waratahs, Telopea 'Braidwood Brilliant' [Section 210], with many red flower heads can be seen. Beside them is Alyogyne huegelii 'West Coast Gem' [Section 210], so bright with purple hibiscus-like flowers.
Almost opposite is a very small shrub, Boronia 'Tyalge Ruby' [Section 174], clad in profusion with its small pink flowers.
Next to the stairs with branches above the rock wall, Vesselowskya rubifolia [Sections 210, 125] is a large shrub with tassels of cream flowers among the leaves.
On the other side of the stairs, Grevillea barklyana [Section 125] has long branches leaning towards the road. It has large leaves and many pink toothbrush-like flowers.
Following the road beside the Rainforest Gullly, Pimelea ferruginea 'Magenta Mist' [Section 128] has many branches tipped with rounded clusters of bright pink flowers.
Close is Grevillea rosmarinifolia 'Rosy Posy' [Section 128], a more open shrub decorated with dangling cream-pink flowers.
Behind is Labichea lanceolata subsp. brevifolia [Section 128], a larger shrub clad with yellow flowers where each petal is marked with a red spot.
Across the side-road, Grevillea bipinnatifida 'Jingle Bells' [Section 124], as a standard plant, continues to bear large red dangling flowers among its leaves.
Close by is a leaning waratah, Telopea speciosissima 'Corroboree' [Section 124], with terminal red flowers.
Almost opposite is the Queensland Frangipani, Hymenosporum flavum [Section 125], a small rainforest tree with shiny leaves and small fragrant flowers.
Opposite, Grevillea 'Goldfever' [Section 124] is a dense spreading low shrub bearing its apricot-coloured spider-shaped flowers.
Beside is Leptospermum 'Tickled Pink', [Section 124] a shapely shrub laden with buds just opening to pink-petalled flowers. The groundcover is Grevillea 'Bedspread'. It has deep pink toothbrush-shaped flowers tipped with cream.
Acradenia euodiiformis [Section 158] is a tall shrub covered in profusion with clusters of small white flowers.
The next corner is covered with shiny yellow native buttercups, Ranunculus collinus [Section 78].
The triangle garden, which is forever colourful, is bright with Geraldton Wax flowers. Chamelaucium uncinatum 'Cascade Brook' [Section 17] is well clad with dappled pink flowers, while the darker pink flowers are those of Chamelaucium uncinatum 'Murfit Rose'.
Also in the triangle is Hibbertia stellaris [Section 17], so brilliant with a coverage of orange flowers.
Dampiera linearis [Section 17] is a small upright plant with its branches tipped with blue flowers.
Another small mounded plant is Conostylis seorsiflora [Section 17], clad with interesting yellow flowers.
A good edging plant is Brachyscome multifida 'Roulette' [Section 17], with soft foliage and small mauve daisy flowers.
Across the road is a patch of low cherry red-flowered plants, Leptospermum 'Love Affair' [Section 123].
Follow this road to the right to view the Rock Garden and then take a left turn to the developing Red Centre Garden.

Barbara Daly