In Flower This Week
A weekly news sheet prepared by a Gardens' volunteer.
Numbers before each plant refer to temporary IFTW labels in the gardens.
Numbers in square brackets [ ] refer to garden bed Sections. Plants in flower are in bold type.
View past issues of 'In Flower This Week'.
23 August 2013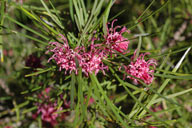 Grevillea sericea
click for larger image
Like our fair city, our Gardens are being clad with the yellow flower balls of wattles. This walk includes only a few but will mention many grevilleas and banksias along a section of the Main Path.
Opposite the entry to the Visitor Information Centre is the Snowy River Wattle, Acacia boormanii [Section 210], showing its soft fluffy yellow flower balls amid its foliage.
Grevillea 'Scarlet Sprite' [Section 174], growing among other shrubs, is of medium height with red spider-like flowers.
In front of the café building, Grevillea rhyolitica [Section 240] is a large dense shrub bearing pendulous red flower clusters.
Surrounding the large tree trunk is the Winged Wattle, Acacia alata var. biglandulosa [Section 240], a dense shrub with flattened zig-zag stems with cream flower balls attached.
Continue along the Main Path with numerous flowers to admire before viewing the Cootamundra Wattle, Acacia baileyana [Section 30]. This is a prostrate form clad with a profusion of gold fluffy flower balls.
Beside it is the Heath-leaved Banksia, Banksia ericifolia [Section 30], a grand ageing shrub with long lateral branches, all with many golden upright cylindrical flower spikes.
In a pot nearby, Grevillea saccata [Section 30] is a low shrub with its lateral branches edged with small leaves and its terminal yellow-tipped dusky red flowers extending over the edge of the pot.
Almost opposite, Banksia heliantha [Section 30] is a low sprawling plant with serrated leaves and terminal yellow flower heads and buds set in dark bracts.
Banksia spinulosa var. neoanglica [Section 25] is of medium size and so attractive with yellow flower spikes.
Banksia ericifolia 'Red Clusters' [Section 25] is a many-branched upright shrub displaying its really red flower spikes.
Nearby Grevillea dimorpha [Section 25] has deep red flowers edging the branches.
Crossing the road, Grevillea 'LadyO' [Section 26] is resplendent with its graceful lateral branches crowded with red flowers.
Grevillea lavandulacea [Section 26] sprinkles red buds among the grey foliage.
Behind is Grevillea sericea [Section 26] displaying its pink spider-like flowers.
Opposite, a Grevillea sp. [Section 24] is attractive with its terminal flower spikes.
A short way up this path, are larger shrubs including Grevillea brevifolia [Section 23] bearing strands of rust orange flowers.
Grevillea capitellata [Section 23] with differing foliage has scarlet spider flowers.
Edging the Main Path, Grevillea 'Canterbury Gold' [Section 26] is a semi-prostrate shrub with long lateral branches clad with apricot-coloured spider flowers.
Grevillea speciosa [Section 26], seen here below the branches of a banksia, is an upright plant with brilliant red spider-like flowers.
Grevillea tripartita subsp. macrostylis [Section 24] is of medium height with sharp pointed leaves and red-cream flowers with long curved red styles.
Grevillea vestita subsp. isopogoides [Section 26] is clad with cream fluffy flowers over the low spreading plant.
Grevillea centristigma [Section 26] is a small upright plant with yellow flower clusters almost concealed below the hairy leaves.
Opposite is Grevillea ripicola [Section 24], a dense vigorous spreading shrub displaying its red flowers.
Flowers continue whichever path is taken. To walk among a section of wattles see the marked map overleaf.

Barbara Daly