In Flower This Week
A weekly news sheet prepared by a Gardens' volunteer.
Numbers before each plant refer to temporary IFTW labels in the gardens.
Numbers in square brackets [ ] refer to garden bed Sections. Plants in flower are in bold type.
View past issues of 'In Flower This Week'.
9 August 2013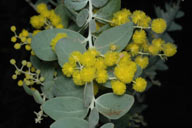 Acacia podalyriifolia
click for larger image
Buds on so many shrubs, flowers on many; days are cool but spring is coming. Walking is enjoyable so come, find these flowers.
In pots outside the Visitor Information Centre, Dampiera latealata (as seen above) displays its deep blue flowers on long upright stems.
In another pot Isopogon polycephalus almost conceals its globular heads of creamy flowers among its flattened leaves.
Flowers are many along Banks Walk, including Alyogyne huegelii 'West Coast Gem' [Section 210], which displays its bright purple hibiscus flowers on upright stems.
Prostanthera phylicifolia [Section 210] falling down the rockface continues to display its small mauve flowers.
Follow the road which runs along the far side of the Rainforest, where Grevillea rosmarinifolia 'Rosy Posy' [Section 128] dangles its red flower clusters from the branches of the small shrubs.
Close by Acacia siculiformis [Section 128] is an upright many-branched shrub clad with pale yellow flower balls among the short sharp phyllodes.
Across the road Grevillea bipinnatifida 'Jingle Bells' [Section 124] is not so pretty as it was but still stands tall with a few fresh terminal red flower clusters among many that are spent.
Across the road the Queensland Silver Wattle, Acacia podalyriifolia [Section 126], is an attractive dense shrub with grey-green leaves and many sprays of soft yellow flower balls.
Continue up the road, passing Grevillea 'Goldfever' [Section 124] with many apricot‑coloured flowers on this low spreading shrub
Opposite the Brittle Gum Lawn, Acronychia littoralis [Sections 114,104] is a medium‑sized many‑branched shrub with large waxy leaves surrounding small clusters of tiny yellow flowers.
Where the Main Path crosses the road Wollemi Pines, Wollemia nobilis [Section 78], can be seen. They are erect small trees with lanceolate leaves. Towards the tops both male and female cones can be seen. The rounded female cones appear above the narrow male cones.
In the triangle garden a Geraldton Wax, Chamelaucium 'Cascade Brook' [Section 17], is a large spreading shrub laden with many pink flowers and buds.
In the corner of the Rainforest a Lilly-pilly, Acmena smithii [Section 14], is a dense shrub clad with a profusion of dark pink fruits.....so attractive.
The opposite corner has few Crowea 'Festival' shrubs [Section 123] showing their deep pink star-shaped flowers.
Edging the road to the Rock Garden is a Cushion Bush, Leucophyta brownii [Section 123]. The small silver-grey compact shrubs are not in flower but quite attractive.
Opposite the Rock Garden is a section of wattles with many still only in bud. The Fern-leaf Wattle, Acacia filicifolia [Section 2], is a large tree laden with soft yellow flower balls.
Take the small path to the right down to the Rock Garden where Grevillea lanigera [Section 15c] is a dense groundcover clad with its pink flowers.
Behind is a group of Gymea Lilies, Doryanthes excelsa [Section 15c], with large sword-like leaves surrounding the spike of a budding flower and many other spent flower spikes.
Take the road downhill to pass by Grevillea aspleniifolia [Section 107], a very large spreading shrub dotted with pink toothbrush- like flowers.
Continue down to the café to complete this walk.

Barbara Daly