In Flower This Week
A weekly news sheet prepared by a Gardens' volunteer.
Numbers before each plant refer to temporary IFTW labels in the gardens.
Numbers in square brackets [ ] refer to garden bed Sections. Plants in flower are in bold type.
View past issues of 'In Flower This Week'.
26 July 2013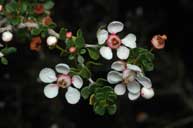 Astartea ambigua
click for larger image
This cool pleasant walk is to view flowers in the Mallee Section which contain species of South and Western Australia. It commences at the Ducrou Pavilion opposite the Red Centre construction site. To arrive there follow the marked road from the Visitor Centre.
Grevillea tetragonoloba [Section 100b] extends its limbs with prickly lobed leaves and red toothbrush-like flowers towards the road.
Arriving at the right hand path, an emu- bush, Eremophila warnesii [Section 100b], is a low spreading plant with terminal velvety leaves and always with a few bright purple bugle-shaped flowers.
Behind is Astartea ambigua [Section 100b], a small upright open shrub clad with tiny pink‑petalled flowers.
Entering the boardwalk, Gastrolobium propinquum [Section 100b] has tiny red‑centred orange pea-shaped flowers on the spreading branches.
Adenanthos obovatus [Section 100a] is a small upright plant clad with red flowers having long red styles.
Thryptomene denticulata [Section 100b] is dense with tiny pink flowers along its arching branches.
Still very small, a wattle, Acacia quadrisulcata [Section 100b], has long lateral branches, a few of which are clad with small globular yellow flowers.
Beside is Grevillea 'Sid Reynolds' [Section 100b], a tall spreading shrub bearing red-cream flowers.
Spyridium obovatum [Section 100c] is a dense shrub with green-grey foliage and clusters of cream buds in profusion.
Rounding the curve Dampiera dysantha [Section 100a] has bright blue flowers on the prostrate wiry branches. There is a good view of the Red Centre construction site from here.
Beaufortia decussata [Sections 100a, 100c] is an upright shrub with red bottlebrush-like flowers edging the branches clad with tiny leaves.
Banksia epica [Section 100a] is a low dense rounded shrub clad with many flower spikes of differing ages, from immature dark forms to yellow and brown mature spikes.
Taxandria marginata [Section 100c] has clusters of dark-centred white flowers on the many-branched tall shrub.
Across from it is Acacia aphylla [Section 100a], a wiry type of shrub with yellow flower balls attached to the leafless branches.
Opposite, Hibbertia cuneiformis [Section 100c] is an upright shrub bright with its open yellow flowers.
Another wattle, Acacia alata var. biglandulosa [Section 100c], is a large spreading shrub with long zig-zag flattened branches and with scattered cream fluffy flower clusters.
Baeckea crassifolia [Section 100a] is a neat compact small shrub beautified with a covering of tiny mauve flowers.
Banksia heliantha [Section 100a] is of medium size with large terminal flower heads.
An Astartea sp. [Section 100c] is an upright plant clad with white-petalled flowers.
At the exit of the boardwalk and crowded with other plants, Correa reflexa 'Kangaroo Island form' [Section 100a] is of medium size with slim tubular red flowers with creamy mouths.
In the distance, a white holly, Auranticarpa rhombifolia [Section 96], is a small tree so bright with clusters of orange fruits.
Opposite the entry to the mallee section, the shrub so pink with waxy flowers is Chamelaucium 'Cascade Jewel' [Section 41].
Barbara Daly