In Flower This Week
A weekly news sheet prepared by a Gardens' volunteer.
Numbers before each plant refer to temporary IFTW labels in the gardens.
Numbers in square brackets [ ] refer to garden bed Sections. Plants in flower are in bold type.
View past issues of 'In Flower This Week'.
19 April 2013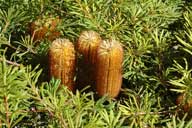 Banksia spinulosa 'Stumpy Gold'
click for larger image
This walk, although somewhat longer, provides many plants to admire including a variety of interesting shrubs. It starts just past the café building.
Firstly, outside the Visitor Centre doors in pots are Lechenaultia formosa, clad with its orange-red flowers draping over the edge of the pot, and Sturt's Desert Pea, Swainsona formosa, which displays its large dark‑centred red pea-shaped flowers.
Continue to the far end of the cafe building where between two paths there is a group of Correa 'Summer Belle' [Section 240] bearing slim red tubular flowers with greenish mouths on the small open plants.
Edging the lawn over the right-hand path is a grouping of Grevillea 'Robyn Gordon' [Section 240], bearing large terminal red flower spikes.
Return to the Main Path to pass a corner planting of Banksia 'Stumpy Gold' [Section 131]. It is a low dense spreading shrub clad with a profusion of upright cylindrical gold flower spikes.
Down further is Epacris 'Nectar Pink' [Section 131]. Its upright stems are edged with rows of pink tubular flowers with white mouths.
Opposite is a large dense shrub Callistemon citrinus 'Splendens' [Section 240], displaying its red bottlebrush flowers.
Crowded beside this is Crowea 'Cooper's Hybrid' [Section 240], resplendent with its showy deep pink four-petalled star-like flowers.
In front of the building is Banksia 'Honey Pots' [Section 131] with its honey-coloured flower spikes on a low open shrub.
In the opposite corner behind the large notice board, Callistemon subulatus [Section 10] is a dense medium size shrub bright with deep red bottlebrush-like flowers.
Continue along this lower road passing Pimelea latifolia subsp. altior [Section 143], a neat rounded shrub with small clusters of tiny white flowers.
Later, Mountain Devil, Lambertia formosa [Section 143] is a medium upright shrub bearing its unusual red flowers.
At the intersection a hedge of Callistemon 'Firebrand' [Section 32] contains many red bottlebrushes.
Following this road to the left, almost parallel to the boundary, passing a large old Banksia aemula [Section 32] laden with dark spent flower heads and young lemon flower heads.
Continue on the road to where there are many banksias, including Banksia paludosa [Section 28], a smaller rounded shrub with gold flower spikes.
Rounding the corner, Banksia integrifolia subsp. compar [Section 27] is a large dense shrub bright with lemon flower spikes.
Nearby is Grevillea 'Sid Reynolds' [Section 25], a medium dense shrub profuse with rather concealed pink-cream flowers.
Opposite the next corner to the left is a group of Correa 'Pink Lips' [Section 112] with slim pink with greenish month tube-shaped flowers on the small dense shrub.
Follow the left road down to the next intersection where there are many flowers, including Banksia 'Cape Patterson Dwarf' [Section 26] with cream flower spikes on a small upright shrub.
By the side of the banksia, Grevillea 'LadyO' [Section 26] has few red flowers and many buds on the low shrub with many lateral branches.
Across the road is Ivory Curl, Buckinghamia celsissima [Section 27], an as-yet small tree crowned with dark foliage and with pendulous spikes of cream flowers... really worth viewing!
Continue along this Main Path to return to the café.

Barbara Daly