In Flower This Week
A weekly news sheet prepared by a Gardens' volunteer.
Numbers before each plant refer to temporary IFTW labels in the gardens.
Numbers in square brackets [ ] refer to garden bed Sections. Plants in flower are in bold type.
View past issues of 'In Flower This Week'.
12 April 2013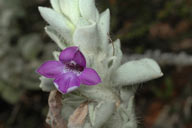 Eremophila warnesii
click for larger image
This walk is to view flowers in the Mallee Section, which contains species from South and Western Australia. It will also pass by the Red Centre Garden construction site, starting from the Ducrou Pavilion.
Follow the marked road from the Visitor Centre entrance after admiring Lechenaultia formosa, a small shrub clad with orange-red flowers that is growing in a pot.
Follow the road on the left side of the construction site where viewing is good. On the rocky slope a wild tobacco plant, Nicotiana rosulata subsp. ingulba, is dense with white flowers.
Close by is an area with Sturt's Desert Pea, Swainsona formosa, scattered among the rocks. It is ablaze with large dark-centred red pea-shaped flowers. The design of the Red Centre Garden is worth viewing from here.
Opposite is Chrysocephalum apiculatum [Section 300] with its small orange flower heads draped over the wall.
A patch of Button Wrinklewort, Rutidosis leptorrhynchoides [Section 100b], is a dense suckering groundcover clad with yellow button-shaped flowers.
A blue-bush, Maireana sedifolia [Section 100b], covers its small branches with grey fleshy leaves. It is an attractive plant even when not flowering.
At the corner Eremophila warnesii [Section 100b] is a low sprawling plant with terminal velvety leaves and always a few bright purple bugle-shaped flowers.
Entering the boardwalk in an anticlockwise direction, Eremophila alternifolia [Section 100b] displays few cerise-coloured tube‑shaped flowers on its open branches.
Lechenaultia biloba [Section 100b] bears its powder blue flowers on long meandering stems.
Thryptomene denticulata [Section 100b] is a small open shrub with fine foliage and tiny pink flowers edging the stems
Close by the tiny Dampiera salahae [Section 100b] is clad with blue flowers.
Rounding the corner, Thomasia petalocalyx [Section 100a] is a dense medium shrub with many small pink downturned flowers.
Banksia epica [Section 100a] is picturesque with many yellow cylindrical upright flower spikes decorating the rounded shrub.
In the centre of the garden Corymbia clarksoniana [Section 100a] has large clusters of cream fluffy flowers terminal on long arching branches of the tall tree.
Hypocalymma jessicae [Section 100a] is a small shrub covering its branches with tiny feathery flowers.
Dryandra quercifolia [Section 100a] is another picturesque shrub with golden flower spikes.
Astartea sp. [Section 100c], close to the path, is bright with white-petalled flowers on the upright shrub.
Correa reflexa 'Kangaroo Island' [Section 100a] is of medium size and dense, with slim tubular red yellow-mouthed flowers in abundance.
Returning to the road take the upper road to view the White Holly, Auranticarpa rhombifolia [Section 96], now decorated with large clusters of orange berries on the upright small tree.
Opposite is Callistemon comboynensis [Section 103] a dense shrub of medium size with deep red bottlebrush flowers in profusion. The tiny blue Fairy-wrens enjoyed this part of the gardens today.
Barbara Daly