In Flower This Week
A weekly news sheet prepared by a Gardens' volunteer.
Numbers before each plant refer to temporary IFTW labels in the gardens.
Numbers in square brackets [ ] refer to garden bed Sections. Plants in flower are in bold type.
View past issues of 'In Flower This Week'.
29 March 2013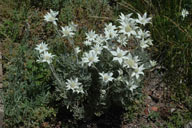 Actinotus helianthi
click for larger image
A stroll along the Main Path this time of the year is a pleasant experience. Starting at the end of the café building, this walk meanders through the Sydney Region Basin, the Rock Garden and the Rainforest.
Thryptomene sp. [Section 10] is a fairly open shrub of medium height with branches clad with tiny pink-petalled flowers.
Continue on past the bed of daisies to view Banksia heliantha [Section 30]. Previously classified as a Dryandra, it is a low spreading shrub with interesting yellow buds surrounded by black calyces.
Close by is Banksia spinulosa 'Honeypots' [Section 30], bearing honey-coloured upright cylindrical flower spikes.
Almost opposite, Callistemon 'Reeves Pink' [Section 30] bears its lovely pink bottlebrush flowers. It is set back from the path.
Banksia ericifolia 'Red Clusters' [Section 25] is a tall slim shrub bright with its colourful flower spikes.
Grevillea sericea subsp. sericea [Section 27] is a medium open shrub bearing cream lacy flowers.
Crossing the road, Grevillea 'LadyO' [Section 26] is a low shrub with red flowers pendent from its lateral branches.
Banksia conferta subsp. penicillata [Section 26] is a large ageing shrub laden mostly with old dark flower spikes also with mature lemon flower spikes.
Grevillea juniperina 'Molonglo' [Section 24] is a prostrate shrub with apricot-coloured flowers on the long lateral branches.
Across the next road, almost concealed by other shrubs, Acradenia frankliniae [Section 112] is a medium-sized shrub with glossy green leaves and a profusion of small balloon-shaped buds opening to cream star‑shaped flowers.
Before crossing the road to the Sydney Region Gully admire Correa 'Canberra Bells' [Section 112], graceful with its pendulous red tubular flowers with yellow mouths. It has been selected to commemorate Canberra's centenary in 2013.
At the entrance in a newly-developed area there are many flannel flowers, Actinotus helianthi [Sections 191h, 191s]. These small shrubs have deeply-lobed greyish leaves and large cream flowers on bare upright stems.
Edging the path Crowea exalata [Section 191h] has small pink star-shaped flowers over the low dense shrub.
At the corner, where a path leads to the Display Glasshouse, Scaevola albida [Section 191j] is a dense groundcover profuse with small fan-shaped mauve flowers.
In the display garden, behind the circular seat, Crowea saligna [Section 191u] is a low spreading long-flowering shrub profuse with bright pink star-shaped flowers among the waxy bright green foliage.
Here also is Prostanthera porcata [Section 191u], a taller open shrub with pink tubular flowers.
At the exit, near more flannel flowers, is Scaevola ramosissima [Section 191 l]. It is a ground-hugging plant with deep purple fan‑shaped flowers along its lateral branches.
Follow the curved path through the Eucalyptus Lawn down to the Rock Garden, which is brightened with a grouping of large yellow straw flowers, Xerochrysum sp. [Section 15r].
In front of the attractive waterfall and pools is Banksia spinulosa 'Birthday Candles' [Section 15v], bright with its golden flower spikes.
Stroll through the pleasant Rainforest—so green, so cool—and down the ramp, passing Rhododendron lochiae x macgregoriae [Section 313]. It is an open shrub with bright red trumpet-shaped flowers.
Nearby is a mint bush, Prostanthera phylicifolia [Section 210], a dense shrub clad in profusion with small mauve flowers.

Barbara Daly