In Flower This Week
A weekly news sheet prepared by a Gardens' volunteer.
Numbers before each plant refer to temporary IFTW labels in the gardens.
Numbers in square brackets [ ] refer to garden bed Sections. Plants in flower are in bold type.
View past issues of 'In Flower This Week'.
22 March 2013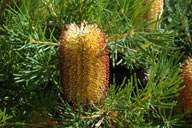 Banksia spinulosa 'Birthday Candles'
click for larger image
This walk is around and about the Rock Garden where flowers are forever changing but firstly enjoy those along Banks Walk. Then follow the road on the far side of the Rain Forest turning right at the intersection with the Main Path which will reach the waterfall in the Rock Garden.
At the corner Hibbertia serpyllifolia [Section 15c] is a low spreading shrub with small open yellow flowers.
Grevillea lanigera [Section 15c] is semi-prostrate and dense with pale pink flowers.
Ascending the stairs Banksia integrifolia subsp. integrifolia [Section 15c] is a dense low-growing plant with dull green foliage and green-yellow flower spikes plus many thin green immature flower spikes.
Opposite, Correa 'Ivory Bells' [Section 15d] has a profusion of tubular cream flowers over this medium-sized dense shrub.
Close beside is Banksia 'Honeypots' [Section 15d], a small upright plant with its cylindrical upright honey-coloured flower spikes.
Chrysocephalum semipapposum [Section 15d] adds brightness to the area with dazzling button-size orange flowers over the spreading plant.
Crowded beside the bridge the Slender Knotweed, Persicaria decipiens [Section 15d], is a vigorous semi-aquatic plant with terminal stems clad with tiny pink flowers.
Hypocalymma xanthopetalum [Section 15f] has tiny yellow frilly flowers along its branches.
Around this section is a group of mountain she-oaks, Allocasuarina rigida [Section 15a], clad with ochre-coloured needle-thin male flowers suspended from the branches.
At the base of these stairs, Plectranthus graveolens [Section 15a] is a herbaceous plant with large felt-like leaves and prominent spikes of pale blue flowers.
There too is Prostanthera staurophylla [Section 15a], a low compact spreading shrub with mauve flowers.
The large spreading shrub opposite is Grevillea 'Mason's Hybrid' [Section 15h], crowned with its large terminal cream flower clusters with long curved red stamens.
From the top road an attractive kangaroo paw, Anigozanthos flavidus [Section 15h], is visible with its copper-coloured "paw" flowers tipping the long slender stems.
Edging the path, Scaevola albida var. albida [Section 15h] is a semi-prostrate dense plant clad with mauve fan-shaped flowers.
Across the road the self-seeding yellow straw daisy flowers are those of Xerochrysum bracteatum [Section 3].
Take the downward path between the grass trees, Xanthorrhoea johnsonii [Sections 15,14] to Banksia spinulosa 'Birthday Candles' [Section 15 l], a dwarf spreading shrub with mainly dull green flower spikes yet to mature to their full golden colour.
Close by is a wattle, Acacia aneura var. aneura [Section 15 l] a shrub of medium size with interesting short yellow rod-like inflorescences among the grey-green foliage.
From the other side of the downward path, beside a seat is a Grevillea sp. [Section 15k], an ageing plant with trunk hugging the ground and upright branches clad with toothbrush- like deep red flowers and many buds.
Follow the downward path where, in a pot, Verticordia pennigera [Section 15r] has small bright pink feathery flowers over the low spreading plant.
At the top of the waterfall, seen from the path, the upright plant crowned with dull red or orange leaves is Geissois biagiana [Section 15q]....time now to relax, enjoy the scenery and the bird life.

Barbara Daly