In Flower This Week
A weekly news sheet prepared by a Gardens' volunteer.
Numbers before each plant refer to temporary IFTW labels in the gardens.
Numbers in square brackets [ ] refer to garden bed Sections. Plants in flower are in bold type.
View past issues of 'In Flower This Week'.
8 February 2013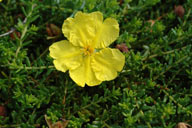 Hibbertia serpyllifolia
click for larger image
After admiring the Sturt's Desert Pea, Swainsona formosa with large dark centred red pea shaped flowers, seen outside the Visitors Centre come, see the flowers in the Rock Garden. To get there follow the road on the far side of the Rainforest turning right at the connection of the Main Path which will reach the Rock Garden waterfall.
Pass by Banksia aemula [Section 15c] a large shrub with few lime coloured flower spikes mixing with many spent spikes.
At the corner to the stairs, flannel flowers Actinotus helianthi [Section 15c] with soft grey foliage and lovely white many-petalled velvety flowers surround Hibbertia serpyllifolia [Section 15c], a small spreading plant dotted with open yellow flowers.
Almost opposite Hibbertia prostrata [Section 15d] creeps about the base of rocks, also with yellow flowers.
Grevillea 'Poorinda Royal Mantle' [Section 15d] flows down the rockface to the pools. It is a dense groundcover with red toothbrush-like flowers.
At the top of the stairs Chrysocephalum semiamplexicaule [Section 15d] has dazzling button-size orange and yellow flowers over the spreading plant.
Lythrum salicaria [Section 15d and elsewhere] has pink flowers tipping the long upright stem, seen especially in the pools.
Hypocalymma xanthopetalum [Section 15f] is a small shrub with stems clad with tiny frilly yellow flowers.
Calocephalus lacteus [Section 15h] is a dense groundcover with small cream flower heads on erect stems.
Behind the seat the pale vanilla lily, Arthropodium milleflorum [Section 15h] has long graceful stems bearing pale pink-petalled flowers.
Nearby is Beaufortia sparsa [Section 15h] an open shrub bright with orange toned bottlebrush-like flowers.
Beside the stairs, Grevillea 'Mason's Hybrid' [Section 15h] is a large ageing shrub with long branches clad with terminal clusters of pink and cream flowers.
At the top of the stairs Grevillea lanigera [Section 15h] is a dense groundcover bearing pink and cream flowers.
Edging the top road Scaevola albida var. albida [Section 15h] displays its mauve fan-shaped flowers on the small spreading plant.
It later mixes with another taller shrub, Thomasia petalocalyx [Section 15h] with small downturned pink flowers. Some blue flowers there are those of Dampiera sylvestris [Section 15h].
Take the downward path between grasstrees, Xanthorrhoea johnsonni [Section 15, 14] to Banksia 'Birthday Candles' [Section 15l] a dwarf spreading dense shrub clad mainly with juvenile green pencil thin spikes.
Follow the road downwards to view, in a pot, Verticordia pennigera [Section 15r], a low spreading shrub beautified with dense clusters of lacy pink flowers. At the bottom of this path, beside the waterfall, turn to the left.
Continue to the exit where numerous pots contain plants including Prostanthera magnifica [Section 15r] clad with dusky mauve flowers and Hibbertia stellaris [Section 15r] with orange coloured flowers.
A kangaroo paw, Anigozanthos 'Bush Bonanza' [Section 15r] bears bright yellow flowers on long upright stems.
While an emu bush, Eremophila bignoniiflora x polyclada [Section 15r], beside the pots, has large cream, tinted mauve, bugle shaped flowers with dotted throat.
Time to sit awhile in front of the waterfall..... such a place to relax.

Barbara Daly.