In Flower This Week
A weekly news sheet prepared by a Gardens' volunteer.
Numbers before each plant refer to temporary IFTW labels in the gardens.
Numbers in square brackets [ ] refer to garden bed Sections. Plants in flower are in bold type.
View past issues of 'In Flower This Week'.
25 January 2013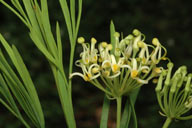 Stenocarpus angustifolia
click for larger image
As there is nothing more Australian than our flora and fauna, this walk which follows the Main Path will reveal many of our colourful flowers. It starts at the end of the cafe building which has passed the colourful display outside the Visitors Centre and those along Banks Walk where orange flowering Corymbia ficifolia [Section 210] is so brilliant.
Follow this path past the bed of daisies which includes Chrysocephalum apiculatum [Section 303] with clusters of small yellow flower balls on short stems.
Banksia 'Birthday Candles' [Section 30] is a dwarf spreading shrub now with juvenile pencil-thin green flower spikes.
Overhead are branches of Banksia serrata [Section 30] displaying its large green-grey flower spikes and many aged spikes containing its rounded fruits, all part of a large shrub
About the next cross road, Stenocarpus angustifolius [Section 27] has globular, tiny lemon flowers on fine lemon stems.
Grevillea 'Coconut Ice' [Section 25] is a low spreading shrub with large terminal pink-cream flower spikes on the arching branches
Across the road the popular Grevillea 'Lady O' [Section 26] has long lateral branches with vivid red pendular flowers.
Grevillea sericea [Section 26] is an upright shrub bearing long-flowering pink spiderlike flowers.
Persoonia acerosa [Section 26] is a smaller dense shrub with tiny yellow tubular flowers amid its lighter green foliage, next to
Grevillea 'Canterbury Gold' [Section 26] is a low shrub with long lateral branches displaying its lemon coloured flowers.
Cross the next road where Crowea exalata [Section 112] are neat rounded shrubs dotted with small pink star shaped flowers.
Entering the Sydney Region Gully the newly developed area contains the lovely flannel flower, Actinotus helianthi [Section 191h, 191s]. The plants have soft velvety grey-green foliage and large many petalled white flowers. (A similar display is seen at the exit to this section)
At the turn-off to the hot-house, Scaevola albida [Section 191j] is a dense groundcover bearing small pale pink fan-shaped flowers.
Baeckea brevifolia [Section 191] is a small dense shrub clad with tiny white flowers. A group of these plants edge the road. Follow the winding path through the Eucalyptus Lawn where week-end concerts are held, down to the Rock Garden.
There are few large pots at the entrance which include Platytheca galioides a low growing small plant dark blue with nodding flowers and kangaroo paw, Anigozanthos 'Bush Bonanza' has yellow 'paw' flowers on long stems.
Towards the waterfall Goodenia macmillanii [Section 15r] has long wandering stems with soft pink flowers.
In front of the pools, Lythrum salicaria [Section 191s] is bright with pink flowers edging the long upright stems.
Hibbertia serpyllifolia [Section 15c] is a dense low shrub bright with yellow flowers.
Banksia aemula [Section 15c] bears many pale green flower spikes amid the green foliage of this large dense shrub.
The Rainforest is a cool environment with palms and plants of varying shades and shapes of green while at the entry the yellow flowers of Hibiscus divaricatus [Section 114] are so brilliant.
Leaving the Rainforest, the ramp down to the Visitors Centre contains kangaroo paw, Anigozanthos 'Big Red' [Section 210] with bright red flowers and
Banksia robur [Section 210] a large spreading shrub with large leathery leaves and bottle green flower spikes.
Barbara Daly.