In Flower This Week
A weekly news sheet prepared by a Gardens' volunteer.
Numbers before each plant refer to temporary IFTW labels in the gardens.
Numbers in square brackets [ ] refer to garden bed Sections. Plants in flower are in bold type.
View past issues of 'In Flower This Week'.
18 January 2013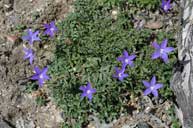 Wahlenbergia gloriosa
click for larger image
The fluorific display outside the Visitors Centre is admirable. The walk is relaxing and finishes in the cool of the Rainforest.
Rhododendron viriosum is a shrub with an arrangement of red bell shaped flowers, the emblem of Canberra, Wahlenbergia gloriosa is vivid with its blue bells, the Christmas Bells, Blandfordia grandiflora with its bells on top of long upright stems are dazzling and the Sturts Desert Pea, Swainsona formosa is unique with its large pea shaped red flowers ...all in pots.
Opposite, a climber over anything, is Pandorea jasminoides with an array of large pink flowers.
A pot edging Banks Walk contains the lovely flannel flowers, Actinotus helianthi [Section 174] with grey velvety foliage and large soft white petaled flowers.
Opposite is a dwarf tree, Corymbia ficifolia [Section 210] just stunning with a covering of orange fluffy flowers, in clusters.
At the end of this section, also colourful, is Pelargonium rodneyanum [Section 174] a spreading groundcover with cerise coloured geranium-like flowers.
Opposite, a group of kangaroo paws, Anigozanthos flavidus [Section 174] bears its 'paw' shaped matt green flowers on long stems. Take now, the road on the far side of the Rainforest Gully.
Grevillea bipinnatifida 'Jingle Bells' [Section 124] could not be missed for this standard plant is crowned with long red pendulous flowers and rough leaves.
Grevillea 'Goldfever' [Section 124] is a low spreading shrub bearing many apricot coloured flowers and is surrounded by
Grevillea 'Bedspread' [Section 124] a dense groundcover bearing crimson toothbrush like flowers.
Hibiscus plants can be seen edging the rain- forest including the Native Rosella, Hibiscus heterophyllus subsp.heterophyllus [Section 114,104]. They are tall open shrubs with many flowers coloured white with pink splashes.
Hibiscus divaricatus [Section 104] is also a tall shrub bearing bright yellow flowers while
Hibiscus splendens [Section 104] is a medium size dense shrub clad with a shade of red. Hibiscus flowers seem to close up at night and so need sunshine to open.
This triangle garden has many kangaroo paws of all shades including Anigozanthos flavidus, here with red-green flowers. Anigozanthos 'Bush Dawn' [Section 17] has yellow coloured flowers and Anigozanthos 'Bush Ruby' has dark red flowers.
Chrysocephalum apiculatum [Section 17] in a garden corner is dense with its orange-yellow button flowers in clusters on upright stems.
Take this right hand road towards the Rock Garden passing a field of self-seeding paper daisies, Xerochrysum sp. [Section120]
Take the path down through the Rock Garden where at the corner Grevillea lanigera [Section 15h] a groundcover with pink-cream flowers.
Scaevola albida [Section 15h] has a covering of small mauve fan-shaped flowers on the dense plants.
Down the stairs, Grevillea albiflora [Section 15g] a tall shrub with long thin needle-like leaves and long terminal cylindrical cream flower spikes.
Overlooking the pools in front of the water- fall Lythrum salicaria [Section 15s] is the tall purple spiked plant.
At the corner amid a group of flannel flowers Hibbertia serpyllifolia [Section 15c] is a dense plant bright with yellow flowers.
Take the path to the right to the Rainforest. Enjoy the coolness, the variety of plants all so green, all so relaxing.

Barbara Daly.