In Flower This Week
A weekly news sheet prepared by a Gardens' volunteer.
Numbers before each plant refer to temporary IFTW labels in the gardens.
Numbers in square brackets [ ] refer to garden bed Sections. Plants in flower are in bold type.
View past issues of 'In Flower This Week'.
2 November 2012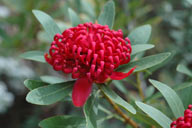 Telopea 'Braidwood Brilliant'
click for larger image
Today we walk through the cool Rainforest Gully to the sunny Rock Garden
Dendrobium x delicatum [Section 210] is a rock orchid with dainty white bells opposite the Visitors Information Centre. It is now accepted as a natural hybrid between D.kingianum and D. tarberi.
Podolepis monticola [Section 174] is noticeable for its cheerful yellow daisy flowers with a large central disk of stamens on rosettes of light-green woolly foliage.
Rulingia hermanniifolia [Section 210] is a mass of small white flowers with pink buds on dark green ridged foliage.
Alyogyne huegelii 'West Coast Gem' [Section 210] is a leggy bush with purple hibiscus style flowers.
Phebalium whitei [Section 210] has bright yellow flowers with long stamens.
Telopea 'Braidwood Brilliant' [Section 210] shows numerous stunning red waratah flowers on a tall bush.
Thomasia petalocalyx [Section 210] has soft mauve pendent bells on a low spreading furry-looking bush.
Westringia amabilis [Section 210] is a medium-sized open bush with clusters of white flowers.
Zieria arborescens [Section 148] is a very tall airy shrub with clusters of small white flowers with pink centres.
Go across the bridge and bear right. Vesselowskya rubifolia [Section 147] has white feathery tassels on a small rainforest tree. This tree is quite rare in the wild.
Turn right across the bridge following the Main Path to the Rock Garden. Derwentia perfoliata [Section 15c] or Digger's Speedwell has drooping bright blue flower stalks held above blue-green stem-clasping heart-shaped foliage.
Go left up to the steps to see Dillwynia glaberrima [Section 15c] with small clusters of yellow flowers on wispy light green foliage.
Grevillea 'Poorinda Royal Mantle' [Section 15d] is a vigorous smothering groundcover with tongue-like leaves and red toothbrush flowers.
Hibbertia fasciculata [Section 15f] forms a small neat bush covered in yellow flowers.
Pimelea humilis [Section 15g] is a groundcover with heads of white flowers.
Turn right to see Zieria odorifera [Section 15f] a small bush with pinkish white flowers and close foliage.
Verticordia galeata [Section 15f] has gold flowers on a small bush.
Ranunculus graniticola [Section 15p] has shiny yellow buttercup flowers on ground hugging clumps of foliage.
Leptospermum rotundifolium 'Julie Ann' [Section 15s] has five-petalled pale pink flowers with green centres.
Hibbertia pedunculata [Section 15s] has gold flowers on scrambling foliage.
Olearia lirata [Section 15q] is a soft open shrub of greyish-white branchlets covered in white daisies.
Indigofera australis [Section 4] has white flowers on green pinnate foliage.
Lasiopetalum sp. [Section 4] has tiny mauve bells with dark red centres on a small bush of neat linear foliage.
Thomasia sp. [Section 4] has purple fused flowers on dusty green foliage.
Eremophila oldfieldii subsp. angustifolia [Section 15v] has orange tubular flowers and lime green bracts on a sparse bush of needle-like foliage.
Rosalind Walcott.