In Flower This Week
A weekly news sheet prepared by a Gardens' volunteer.
Numbers before each plant refer to temporary IFTW labels in the gardens.
Numbers in square brackets [ ] refer to garden bed Sections. Plants in flower are in bold type.
View past issues of 'In Flower This Week'.
26 October 2012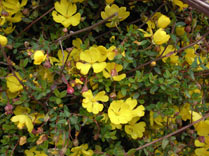 Hibbertia empetrifolia
click for larger image
Today we take a short walk close to the Visitors Information Centre to see all the plants flowering around the buildings, especially noting those in pots
Lechenaultia biloba [Section 221] in a pot has sky blue flowers with white centres.
Tetratheca pilosa [Section 221] in the same pot has attractive mauve-pink bell flowers with darker centres.
Grevillea oligomera [Section 221 in a pot is an unusual West Australian grevillea with pinkish-red brushes on linear foliage.
Another grevillea, Grevillea johnsonii [Section 174], is a tall shrub with soft dark-green, linear foliage with large pink and cream waxy flowers with long red styles.
Hibbertia empetrifolia [Section 210] has wiry trailing foliage which scrambles over the rocks covered in a blaze of bright gold flowers.
Grevillea insignis subsp. insignis [Section 210] is a tall rangy shrub with stiff holly-like foliage and cream and pink waxy flowers with long bright pink styles.
Isopogon 'Little Drumstick' [Section 210] has yellow cone flowers on much divided foliage.
Actinotus helianthi [Section 174] or Flannel Flower in a pot has beautiful grey divided foliage and greenish-cream flowers turning pure white with age.
Anigozanthos rufus 'Kings Park Federation Flame' [Section 174] is a showy bright orange-red Kangaroo Paw.
Leptospermum 'Mesmer Eyes' [Section 174] is a tall angular bush with light pink five part flowers with darker pink stamens.
Pultenaea villosa [Section 60] has bright orange flowers on arching stems of small tight foliage.
Sphenotoma dracophylloides [Section 240] forms white terminal clusters of flower on short stems of curled foliage.
Bear right down the path towards the Crosbie Morrison Building. Leptospermum 'Pink Cascade' [Section 240] shows weeping sprays of pink flowers with darker pink stamens.
Grevillea 'Bonfire' [Section 240] is a shrub with dark green linear foliage and terminal waxy red flowers held upright.
Philotheca myoporoides [Section 240] has white star flowers on a small neat bush.
Petrophile biloba [Section 240] has divided linear foliage with large gold heads of bloom.
Tetratheca ciliata [Section 240] has dainty pendent white bells on a bush with dark green foliage.
Rulingia magniflora [Section 240] has clusters of white flowers on soft greyish-green foliage
Alyogyne huegelii [Section 240] is a tall bush with white hibiscus style flowers.
Kunzea baxteri [Section 240] has bright red powderpuff flowers on a tall bush with neat clusters of foliage.
Daviesia physodes [Section 310] in a pot has orange pea flowers on sparse green foliage.
We now look at three different hibbertias in the same pot. Hibbertia cunninghamii [Section 240] has stems of mid-green foliage with large bright yellow papery flowers.
Hibbertia fasciculata [Section 240] has tiny soft crowded foliage with small bright yellow five part flowers.
Hibbertia vaginata [Section 240] is a creeping groundcover with bright yellow flowers.
Thomasia petalocalyx [Section 240] has pale lilac pendent bells on dusty green foliage.
Rosalind Walcott.