In Flower This Week
A weekly news sheet prepared by a Gardens' volunteer.
Numbers before each plant refer to temporary IFTW labels in the gardens.
Numbers in square brackets [ ] refer to garden bed Sections. Plants in flower are in bold type.
View past issues of 'In Flower This Week'.
12 October 2012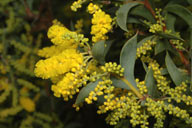 Acacia triptera
click for larger image
Today we linger near the Visitors Information Centre, then visit some flowering orchids before wandering along the rear of the Rock Garden
Zieria prostrata [Section 221] has tiny mauve flowers in mass on a prostrate bush of aromatic foliage – this plant is threatened in the wild.
Philotheca myoporoides subsp. acuta [Section 174] has numerous showy white flowers with pink buds on a neat bush.
Acacia cognata 'Green Mist' [Section 210] has small pale yellow ball flowers on fine weeping foliage.
Overhead Alyogyne 'West Coast Gem' [Section 210] flowers for a long period and has stunning purple flowers on a rather straggly bush.
Grevillea wilkinsonii [Section 174] or Tumut Grevillea is a spreading shrub with pinky mauve toothbrush flowers which attract many birds despite their rather unpleasant musty smell. This is another plant which is threatened in the wild.
A pot of Chorizema cordatum [Section 174] or Flame Pea shows a stunning orange/pink colour combination pea flower on scrambling lax foliage with heart-shaped leaves.
Anigozanthos 'Bush Dance' [Section 174] has pinkish red stems with emerald green flowers.
Bear left past the rear of the café to see the epiphyte Dendrobium falcorostrum [Section 125], a white orchid with a yellow and purple figured lip.
Another orchid Dendrobium speciosum [Section 125] has cream flowers with pointed petals bent close to the stem.
Grevillea 'White Wings' [Section 124] is a tall vigorous shrub with frothy white flowers hanging down in drifts.
Indigofera australis [Section 125] or Australian Indigo has pink flowers on an airy bush of green-blue pinnate leaves.
Acronychia littoralis [Section 114] is a small rainforest tree with greenish yellow 4-petalled flowers in clusters on shiny green foliage.
A patch of the spreading groundcover Ranunculus collinus [Section 78] has yellow buttercup flowers and attractive leaves with three segments.
Prostanthera rotundifolia [Section 78] forms a bank of round leaf mint bushes with purple flowers.
Olearia viscidula [Section 120] or Wallaby Weed consists of white daisies on arching stems of foliage. It is possibly beetle pollinated.
Boronia megastima 'Virtuoso' [Section 15h] has dark reddish brown bells with yellow inside and an intense and attractive scent.
Hibbertia empetrifolia [Section 15h] is a mass of small gold flowers on wiry trailing stems forming a low bush.
Acacia triptera [Section 15h] or Spurwing Wattle forms a small tree or tall shrub with bright golden rod flowers and branches of stiff curved blue-green leaves which taper to a sharp spine.
Telopea speciosissima 'Coroboree' [Section 15j] is a form with longer styles. It is vigorous grower with many bright pink waratah flowers standing upright in a pyramidal display.
Acacia granitica [Section 3] forms a sprawling mass of linear leathery phyllodes with bright yellow balls of flower.
Hakea horrida [Section 20] is a dense, intricately branched, rigid shrub with prickly leaves and white curled flowers in clusters.