In Flower This Week
A weekly news sheet prepared by a Gardens' volunteer.
Numbers before each plant refer to temporary IFTW labels in the gardens.
Numbers in square brackets [ ] refer to garden bed Sections. Plants in flower are in bold type.
View past issues of 'In Flower This Week'.
5 October 2012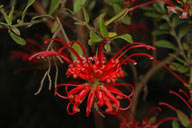 Grevillea speciosa
click for larger image
Today we walk along the Main Path but do not go very far as there is so much in flower this week
As you leave the Visitors Information Centre look right to see Rhodanthe chlorocephala subsp. rosea [Section 221] in a pot showing cheerful pink daisy flowers with yellow centres.
Continue towards the cafe to notice on the right Phebalium daviesii [Section 174] with fluffy pale yellow blooms with prominent stamens on a small bush.
Boronia megastima [Section 174] showing brown flowers with yellow inside is easily overlooked except for its heavenly scent.
Platytheca galioides [Section 174] in a pot has bright purple nodding bells on sparse wiry foliage. Go across the bridge and past the café to the Ellis Rowan garden.
Philotheca 'Bournda Beauty' [Section 131] has pink buds with white star flowers on a neat bush.
Epacris 'Nectar Pink' [Section 131] shows pink tubes with white tips on straggly foliage.
Phebalium squamulosum subsp. lineare [Section 240] has lemon yellow fluffy flowers on constrasting green foliage.
Micromyrtus ciliata [Section 131] consists of small white flowers on arching sprays of foliage with tiny leaves close to the stem.
Continue up the Main Path to see Actinodium cunninghamii [Section 11] in a pot with bright pink disks of flower on sparse foliage.
Thryptomene sp. [Section 10] has tiny pink flowers on an airy bush.
Eremophila drummondii [Section 302] has mauve tubular flowers on fine green foliage.
Olearia sp. [Section 303] has white daisy flowers on a tall bush of grey-green foliage.
Grevillea speciosa [Section 30] has bright red spider flowers on a small bush with green foliage.
Eriostemon 'J. Semmens' [Section 30] has pink star flowers with darker centres.
Hardenbergia violacea 'Mini haha' [Section 30] is a vigorous groundcover with bright purple blooms.
Homoranthus flavescens [Section 9] has acid yellow flowers with red buds on a medium sized bush.
Look up to see Grevillea insignis subsp. insignis [Section 9] with pink waxy flowers on stiff holly-like foliage.
Grevillea 'Bronze Rambler' [Section 30] is a smothering groundcover with divided foliage and red toothbrush flowers.
Rosalind Walcott.