In Flower This Week
A weekly news sheet prepared by a Gardens' volunteer.
Numbers before each plant refer to temporary IFTW labels in the gardens.
Numbers in square brackets [ ] refer to garden bed Sections. Plants in flower are in bold type.
View past issues of 'In Flower This Week'.
21 September 2012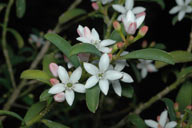 Philotheca myoporoides subsp. acuta
click for larger image
Today we visit the Rock Garden
As you leave the Visitors Information Centre on the right is Philotheca myoporoides subsp. acuta [Section 174] showing white star flowers with pink buds on a neat bush.
Bear left up the hill to see Grevillea 'Goldfever' [Section 124],a long flowering small shrub with butterscotch yellow spider flowers.
Acronychia littoralis [Section 114] is a small tree with glossy leaves and clusters of small greenish-yellow flowers.
Banksia spinulosa var. spinulosa [Section 109] is a small tree covered in upright gold brushes with deep red styles.
Overarching the path is Acacia melanoxylon [Section 104], a large tree with pale yellow balls of flower.
Chamelaucium 'Cascade Brook' [Section 17] is a type of Geraldton Wax with pink five-petalled flowers with maroon centres on an airy bush.
As you enter the Rock Garden Homoranthus flavescens [Section 15a] shows acid yellow blooms with red buds on arching sprays of fine needle foliage.
Acacia pravissima 'Kuranga Cascade' [Section 15h]has drooping triangular foliage with bright golden balls of flower.
Acacia pravifolia [Section 15f] is a small upright bush with fluffy golden balls.
Allocasuarina grampiana [Section 15b] is a tall upright shrub with pine like foliage and deep red fluffy flowers along the stems.
A small bush with cream rods on pale green holly-like foliage is Grevillea monticola [Section 15d].
Grevillea manglesii subsp. manglesii [Section 15d] is a large shrub with white starburst flowers.
Homoranthus darwinioides [Section 15f] has small red/cream pendent bells on a bush with dark green foliage.
Daviesia horrida [Section 15f] has extremely spiky foliage and deep yellow/red pea flowers.
Epacris gunnii [Section 15m] is a spindly small upright shrub with white flowers along the stems.
Brachyscome 'Strawberry Mousse' [Section 15r] is a groundcover with pink daisy flowers with gold centres.
Lysiosepalum involucratum [Section 15r] has delicate purple bells with dark centres hanging from a prostrate bush.
Ricinocarpus bowmanii [Section 15r] has white flowers with pink stamens on yellow green whorled foliage.
Zieria adenophora [Section 15k], has burgundy foliage studded with tiny white flowers.
Rosalind Walcott.