In Flower This Week
A weekly news sheet prepared by a Gardens' volunteer.
Numbers before each plant refer to temporary IFTW labels in the gardens.
Numbers in square brackets [ ] refer to garden bed Sections. Plants in flower are in bold type.
View past issues of 'In Flower This Week'.
7 September 2012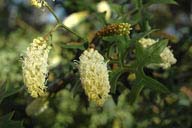 Grevillea flexuosa
click for larger image
As you leave the Visitors Information Centre notice on the right in a pot the bright golden balls and grey foliage of Acacia notabilis [Section 221.
Further along on the right is the long-flowering Epacris longiflora [Section 174],a large bush of cream tubular flowers hanging from prickly foliage.
Go over the bridge and skirt past the café to the Ellis Rowan Garden to see another Epacris longiflora [Section 131], this time with red tubular flowers with white tips.
It is hard to ignore Acacia alata var. biglandulosa [Section 240] with white fluffy flowers on flattened phyllodes.
Thryptomene sp. [Section 10] is a large airy bush with arching branches of small pink flowers.
Eriostemon 'J. Semmens'[Section 30] has tight pink buds opening to white flowers with pinkish centres.
Acacia baileyana (prostrate form) [Section 30] has drooping fringed foliage with bright golden balls of flower.
The stunning Banksia spinulosa var. neoanglica [Section 25] is covered in yellow-gold spikes on a small neat bush.
Grevillea dimorpha [Section 25], intertwined with the Banksia above, has bright red blooms on dark green foliage.
A large bush with soft oval leaves and pendent clusters of red flowers is Grevillea rhyolitica subsp. rhyolitica [Section 25].
Grevillea flexuosa [Section 25] has cream rods of flower on prickly divided foliage.
Grevillea 'Lady O' [Section 24] is a low bush with bright red pendent flower clusters.
Grevillea lavandulacea [Section 24] shows a wonderful contrast between grey foliage and dark red blooms.
Grevillea baueri [Section 24] forms a low bush with terminal red spider flowers on whorled foliage.
Grevillea corrugata [Section 26] is covered in white starbursts of flower on spindly foliage.
Isopogon asper [Section 26] has strange upright branches covered in close foliage embedded with small flat coral pink flowers.
Around the corner is Grevillea vestita [Section 24], a large bush with many white starburst flowers.
Rosalind Walcott.