In Flower This Week
A weekly news sheet prepared by a Gardens' volunteer.
Numbers before each plant refer to temporary IFTW labels in the gardens.
Numbers in square brackets [ ] refer to garden bed Sections. Plants in flower are in bold type.
View past issues of 'In Flower This Week'.
31 August 2012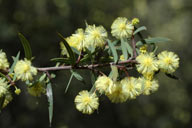 Acacia siculiformis
click for larger image
Today we celebrate Wattle Day (September 1) by visiting a number of wattles already in flower
As you leave the Visitors Information Centre notice on the right the bright golden balls of Acacia gordonii [Section 174].
Close by is the long-flowering Rhodanthe anthemoides [Section 174]a paper daisy with white bracts and yellow centres.
Acacia myrtifolia [Section 174] is an early flowering wattle with interesting red stems contrasting with green foliage and cream balls of flower.
Move left past the bridge to see and smell Olearia argophylla [Section 305] or Native Musk which is a tall, rangy shrub with strongly scented clusters of small white flowers.
Acacia siculiformis [Section 128] is a tall shrub with pale gold balls of flower.
Grevillea 'Goldfever' [Section 128] forms a neat bush covered in butterscotch yellow toothbrush flowers.
Acronychia imperforata [Section 114] is a small bushy tree with long shiny leaves and greenish cream star flowers.
Bear right past Acacia aphylla [Section 17], a species under threat of extinction in the wild, which has unusual prickly leafless stems with golden flower balls.
Turn sharp left up the bark path to go under the glorious Acacia terminalis [Section 2] in full flower. Keep right along the bark path.
Acacia kettlewelliae x A. pravissima [Section 2] is a small bush with golden balls of flower.
Acacia pravissima [Section 2] has close knife-edge foliage with beautiful golden balls of flower.
Bear right downhill to the road where you will turn right again. Acacia covenyi [Section 3] is a reclining small tree with beautiful sword like blue/silver foliage and yellow ball flowers.
Spyridium obovatum var. obovatum [Section 14] has dull yellow balls of flower on a bush with small oval foliage.
Acacia 'Purpurea' [Section 3] has fine fringed blue-grey foliage with contrasting rich golden balls of flower.
Acacia kybeanensis [Section 2] is just beginning to show yellow balls of flower on a small umbrella shaped bush.
Acacia caesiella [Section 2] has sickle-shaped foliage and gold balls of flower.
Opposite is a group of Grevillea iaspicula [Section 15g] with pink/cream spider flowers on fresh green foliage.
Grevillea lanigera [Section 15g] under the Rock Garden sign has pink/cream flowers and narrow oblong leaves.
Rosalind Walcott.