In Flower This Week
A weekly news sheet prepared by a Gardens' volunteer.
Numbers before each plant refer to temporary IFTW labels in the gardens.
Numbers in square brackets [ ] refer to garden bed Sections. Plants in flower are in bold type.
View past issues of 'In Flower This Week'.
24 August 2012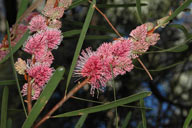 Hakea 'Winter Burgundy'
click for larger image
Today walk along one arm of the Main Path and notice plants in pots
A pot of Kangaroo Paws near the entrance to the Visitors Information Centre shows a variety of yellow and red Anigozanthos 'Bush Dance', 'Bush Bonanza' and 'Rampaging Roy Slaven' [Section 221].
Grevillea leptobotrys [Section 221] is an unusual grevillea with grey skeleton foliage and pink rods of flower.
Dampiera latealata [Section 221] is worth noticing for its long stems with purple flowers.
Platytheca galioides [Section 174] has long-flowering, purple hanging bells on spidery red stems.
Acacia myrtifolia [Section 174] is an early flowering wattle with interesting red tips to the foliage and cream balls of flower.
Skirt the café and head for the Ellis Rowan Garden noticing on the way Grevillea sericea subsp. sericea [Section 244], a small, airy bush with white spider flowers.
Banksia 'Stumpy Gold' [Section 131] has slender gold brushes on a compact bush.
Epacris longiflora [Section 131] has red tubular flowers with white tips on straggly stiff foliage.
Correa reflexa 'Kangaroo Island' [Section 240] is a small bush with pink bells with cream tips and exserted stamens.
Thryptomene sp. [Section 10] has small pink flowers on a light bush.
Acacia baileyana (prostrate form) [Section 30] has finely fringed foliage and large golden balls of flower.
Grevillea 'Flame 'n Beauty' [Section 25] displays orange flowers with red stamens on grey spiky foliage.
The stunning Banksia spinulosa var. neoanglica [Section 25] is covered in yellow-gold spikes on a small neat bush.
Grevillea dimorpha [Section 25], intertwined with the Banksia above, has bright red blooms on dark green foliage.
Banksia paludosa [Section 27] is a small tree covered in upright bronze-green brushes.
Grevillea jephcottii [Section 25] has unusual light green flowers on a mid-green bush much loved by nectar feeding birds.
Hakea 'Winter Burgundy' [Section 24] is an outstanding rangy bush with linear leaves and pink/red flowers clasping the stems.
Rosalind Walcott.