In Flower This Week
A weekly news sheet prepared by a Gardens' volunteer.
Numbers before each plant refer to temporary IFTW labels in the gardens.
Numbers in square brackets [ ] refer to garden bed Sections. Plants in flower are in bold type.
View past issues of 'In Flower This Week'.
10 August 2012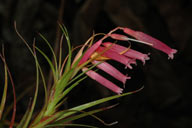 Dracophyllum macranthum
click for larger image
Today we walk along one arm of the Main Path
Cream tubes of Epacris longiflora [Section 174] are displayed on a bush with long tentacles of close foliage.
The long-flowering Correa bauerlenii [Section 131] or Chef's Cap Correa has green tubular foliage with exserted stamens on attractive glossy foliage.
Dracophyllum macranthum [Section 240] in a pot has showy pink tubes on ragged foliage. It is currently listed as a vulnerable species.
Leptospermum 'Pink Cascade' [Section 240] has five-petalled pink flowers with dark red centres on needle-like foliage.
Grevillea 'Scarlet Sprite'[Section 240] has bright red spider blooms with long stamens on an open bush.
Tetratheca ciliata [Section 240] has white drooping bells on a compact bush with neat foliage.
Turn left back to the Main Path. Acacia alata var. biglandulosa [Section 240] is in full bloom with white fluffy balls on flattened phyllodes.
Leptospermum squarrosum [Section 10] has pink tea-tree flowers blooming on the stems of a stiff bush.
Thryptomene saxicola [Section 10] had tiny white/pink flowers on the arching stems of a small bush.
X Astackea 'Winter Pink'[Section 10] has tiny bright pink flowers on an airy bush.
Banksia ericifolia var. ericifolia [Section 30] is a medium bush covered in orange banksia blooms.
Grevillea saccata [Section 30] in a pot has orange pouched blooms on drooping foliage.
Banksia spinulosa 'Birthday Candles' [Section 30] is an attractive low green mound of foliage covered with gold brushes with red styles.
The stunning Banksia spinulosa var. neoanglica [Section 25] is covered in yellow-gold spikes on a small neat bush
Grevillea dimorpha [Section 25], intertwined with the Banksia above, has bright red blooms on upright dark green foliage.
A large bush with soft oval leaves and pendent clusters of red flowers is Grevillea rhyolitica subsp. rhyolitica [Section 25].
Banksia oblongifolia [Section 25] has stubby green brushes on a small angular tree.
Grevillea jephcottii [Section 24] has unusual green flowers on a green bush much loved by nectar feeding birds.
Rosalind Walcott.