In Flower This Week
A weekly news sheet prepared by a Gardens' volunteer.
Numbers before each plant refer to temporary IFTW labels in the gardens.
Numbers in square brackets [ ] refer to garden bed Sections. Plants in flower are in bold type.
View past issues of 'In Flower This Week'.
3 August 2012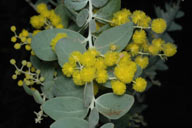 Acacia podalyriifolia
click for larger image
Today we visit the Rock Garden
Darwinia macrostegia [Section 174] or Mondurup Bell has stiff short leaves with pendulous reddish flowers wrapped in showy red and white bracts.
The long-flowering Platytheca galioides [Section 174] in a pot shows masses of dark purplish blue bells.
Grevillea bipinnatifida 'Jingle Bells' [Section 124] has stiff divided foliage and orange/red toothbrush flowers.
Acacia podalyriifolia [Section 126] or Queensland Silver Wattle blooms early with large yellow balls on grey foliage.
Banksia spinulosa [Section 126] has plenty of gold candles with red styles which age to gold.
Grevillea 'Poorinda Diadem' [Section 126] is a large vigorous bush with buff/ apricot starburst flowers.
Grevillea lanigera [Section 15c] is a compact low bush with pink flowers.
Adenanthos obovatus [Section 15d] is a low shrub with red flowers with long styles.
Grevillea monticola [Section 15d] has cream rods of flower on a parse prickly foliage.
Homoranthus darwinioides [Section 15f] has close purplish-grey foliage with cream fringed bells which age to pink or red.
Banksia spinulosa 'Birthday Candles' [Section 15l] is an attractive low green mound of foliage covered with gold brushes with red styles.
Hakea corymbosa [Section 15t] is an extremely prickly bush with upturned clusters of greenish-white bells.
This bush of Guichenotia ledifolia [Section 5]has dusky pink bells with maroon centres and grey foliage.
Grevillea aspleniifolia [Section 117] is a series of huge bushes with long linear leaves and reddish pink toothbrush flowers.
Westringia longifolia [Section 119] has small mauve flowers on an open bush with linear leaves.
Thryptome saxicola 'Pink Lace' [Section 10] shows arching sprays of small pink flowers on a mounded bush.
It is hard to ignore Acacia alata var. biglandulosa [Section 240] in full bloom with white fluffy balls on flattened phyllodes.
Rosalind Walcott.