In Flower This Week
A weekly news sheet prepared by a Gardens' volunteer.
Numbers before each plant refer to temporary IFTW labels in the gardens.
Numbers in square brackets [ ] refer to garden bed Sections. Plants in flower are in bold type.
View past issues of 'In Flower This Week'.
27 July 2012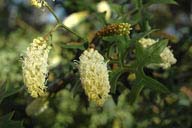 Grevillea flexuosa
click for larger image
Today we will follow one arm of the Main Path almost to the end, then return via a different route.
On the right hand side of the VIC door are some noteworthy pots. One outstanding kangaroo paw with deep orange flowers is Anigozanthos 'Bush Volcano' bred by Gardening Australia's Angus Stewart.
Also in a pot is the long-flowering Grevillea leptobotrys with tangled grey foliage and pink flower rods.
Woollsia pungens has white terminal flower heads with a strong scent worth sampling.
Skirt past the café to notice Banksia 'Stumpy Gold' with numerous slender candles of gold on a neat mounded bush.
It is hard to ignore Acacia alata var. biglandulosa with white fluffy flowers on flattened phyllodes.
Eriostemon 'J. Semmens' has pink cupped flowers on a bush with small leafed foliage.
Banksia ericifolia var. ericifolia has plenty of large orange candles on a small bush with heath-like leaves.
The stunning Banksia spinulosa var. neoanglica is covered in yellow-gold spikes on a small neat bush.
Grevillea rhyolitica subsp. rhyolitica has clusters of nectar-filled red flowers on a large bush loved by Eastern Spinebills.
Grevillea 'Lady O'is similar to the previous grevillea but more brightly coloured.
Hakea 'Winter Burgundy' has bright pink flower clusters on a sparse bush with long leathery leaves.
Grevillea lavandulacea has deep red flowers contrasting with grey foliage.
Grevillea baueri is a low bush with neat foliage and pendent red and cream flowers.
Grevillea dielsiana has stiff and prickly foliage with orange flowers with red styles.
Grevillea minutiflora [Section 26] has cream rods of flower on needle-like foliage.
This bush of Grevillea ripicola has orange flowers with red styles with gold tips.
Turn sharp right back towards the VIC. Grevillea flexuosa is a spreading bush with rigid prickly foliage and cream rods of flower.
Grevillea nana is a low bush with bright pink flowers.
Eremophila drummondii is an airy bush with bright green linear leaves and lilac tubular flowers.
Rosalind Walcott.