In Flower This Week
A weekly news sheet prepared by a Gardens' volunteer.
Numbers before each plant refer to temporary IFTW labels in the gardens.
Numbers in square brackets [ ] refer to garden bed Sections. Plants in flower are in bold type.
View past issues of 'In Flower This Week'.
20 July 2012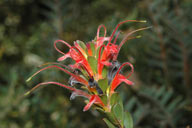 Adenanthos obovatus
click for larger image
The walk this week goes through the Rockery and back down the hill to the Main Path. It begins on the Banks Walk.
Spiked Mintbush Prostanthera phylicifolia [Section 210] trails over the wall. It is covered in pinky mauve flowers.
Turn left just before the café, and go up the hill. On the right is Kybean Grevillea Grevillea oxyantha [Section 128],a dense shrubwith bright red spider flowers.
Farther on, on the left, is Scented Acronychia, Acronychia littoralis [Section 145], a tall dense shrub with yellow star flowers, loved by insects.
Along the bottom side of the triangular bed are a group of Brachyscome multifida 'Breakoday' [Section 17]. These small plants have purple daisy flowers.
At the top of the steps leading down to the Rockery is a prostrate specimen (about three metres across) of Woolly Grevillea Grevillea lanigera [Section 15h], with pinky red spider flowers.
Go down the steps. At the top of the second set of steps on the left is a small shrub, Jug Flower, Adenanthos obovatus [Section 15d], with large spider flowers.
Behind it is Banksia spinulosa 'Honeypots' [Section 15d], a large shrub with huge orange candles with many red hooked styles.
Just below these two plants is a group of White Correa Correa alba [Section 15d], with creamy white flowers with four petals.
Near the bottom of the steps on the right is a small shrub with many small white flowers with five petals – Hairy Beard Heath Leucopogon microphyllus var. microphyllus [Section 15c].
Turn left at the bottom of the steps. On your right is a medium sized dense shrub Guichenotia ledifolia [Section 4], with dull pink open bells hanging down.
Take the steps on the wide path back up into the rockery. At the top is Cauliflower Bush Hakea corymbosa [Section 15p] with large 'cauliflowers' of pale green flowers which fade to pale brown.
Ahead of you is Banksia spinulosa 'Birthday Candles'[Section 15L], a small shrub with yellow candles with many red hooked styles.
Turn right onto the path below the Rockery Extension. Two sub-shrubs are one behind the other. The one in front is Desert Baeckea Baeckea crassifolia [Section 14] with pink flowers about a centimetre across with five round petals
Behind it is Thryptomene denticulata [Section 14], with trusses of small pink flowers.
Go downhill and turn left past the Friends' Shelter. Nearby is a straggly shrub, Hakea purpurea [Section 20], with crimson spider flowers.
Farther along this path are two large shrubs of Hakea bakeriana [Section 20], with large pompoms made up of bright pink spider flowers.
Continue down the hill. Hairpin Banksia Banksia spinulosa var. collina [Section 23], has large pale orange candles.
Turn right onto the Main Path. Grevillea 'Lady O' [Section 26] is a small shrub with red spider flowers.
Farther on is Pine Mountain Grevillea Grevillea jephcottii [Section 25], with pale green flowers with small dark red styles.
Nearby is Banksia ericifolia 'Red Clusters' [Section 25]. The large candles are actually dark orange.
Fern Leaved Banksia Banksia oblongifolia [Section 25] is a tall wide shrub with short green candles.
To return, continue following the Main Path.

Betty Wood.