In Flower This Week
A weekly news sheet prepared by a Gardens' volunteer.
Numbers before each plant refer to temporary IFTW labels in the gardens.
Numbers in square brackets [ ] refer to garden bed Sections. Plants in flower are in bold type.
View past issues of 'In Flower This Week'.
6 July 2012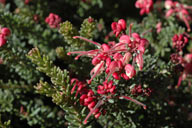 Grevillea lanigera
click for larger image
Today we will visit some ot the Gardens' winter flowering grevilleas as well as other plants along the way.
Epacris impressa [ Section 174] is a straggly bush with prickly foliage and cheerful pink tubular flowers along the stem.
The standard grevillea Grevillea bipinnatifida 'Jingle Bells' [Section 124] has orange/red toothbrush flowers and prickly foliage.
A small tree of Banksia spinulosa var. spinulosa [ Section 109] shows off crimson styles on gold brushes.
A low bush of Grevillea lanigera [Section 15g] is covered with pink and cream clusters on blue/green foliage.
Hakea obtusa [Section 20] has pink powderpuff flowers growing on the stem, with green veined foliage.
A large open bush of Grevillea vestita [Section 22] displays white starbursts of flower on stiff foliage.
Grevillea corrugata [Section 24] has white rods of flower on a fine leafed sprawling bush.
A dense bush of Grevillea ripicola [Section 24] is covered in orange/red flower clusters.
An unusual Western Australian grevillea, Grevillea endlicheriana [Section 26], has long arching silver-grey foliage with terminal pink flowers.
Grevillea minutiflora [Section 26] has cream rods of flower on prickly foliage.
A large bush with soft oval leaves and pendent clusters of red flowers is Grevillea rhyolitica subsp. rhyolitica [Section 24].
Hakea clavata [Section 26] is a sparse bush with long leathery leaves and pink flower clusters.
Grevillea dielsiana [Section 26] has particularly stiff and prickly foliage with orange flowers in abundance.
A prostrate bush of Grevillea baueri [Section 26] has tight foliage and red flowers.
Grevillea sericea [Section 26] is an open bush with pink flower clusters.
This bush of Banksia spinulosa var. spinulosa [Section 26]has puregold styles and brushes.
Grevillea 'Lady O' [Section 26] is a spreading floriferous bush with many red flowers.
Long serrated leaves of Banksia robur [Section 25] surround new greenish brushes and older rich brown brushes.
Eremophila microtheca [Section 302] has a minty aroma, needle like foliage and purple tubular flowers.
Rosalind Walcott.