In Flower This Week
A weekly news sheet prepared by a Gardens' volunteer.
Numbers before each plant refer to temporary IFTW labels in the gardens.
Numbers in square brackets [ ] refer to garden bed Sections. Plants in flower are in bold type.
View past issues of 'In Flower This Week'.
22 June 2012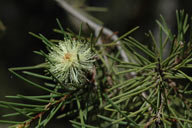 Melaleuca nodosa
click for larger image
This is a long walk in an area of older shrubs mainly in a bushland setting. So, follow the road parallel to the far side of the Rainforest. It is somewhat steeper at the top but then levels out around the corner.
Bottletree, Brachychiton rupestris [Section 42] has a large swollen bottle-like trunk with many lateral branches above. It has yet no flowers.
On either side of this road there is a selection of plants in flower. Forest Oak, Allocasuarina torulosa [Section 40] is tall with branches clad with coppery coloured foliage. The trunk is clad with rough cork like bark.
Close to the intersection, Thryptomene sp. [Section 51] is of medium size with branches clad with tiny pink flowers.
Beside is a lemon scented myrtle, Darwinia citriodora [Section 51] a dense shrub with red-green flowers and fern-like leaves.
At the opposite corner, Melaleuca nodosa [Section 41] is prolific with small globular lacy flowers. The trunk is clad with white papery bark.
Continue along this road but note there may be traffic to the Red Centre excavations close by. Across the road, Banksia ericifolia [Section 103] is a large spreading shrub clad with deep gold upright cylindrical flower spikes.
Beside is a bottlebrush, Callistemon comboynensis [Section 103] a dense spreading shrub with few small dark red bottlebrush flowers but more attractive are the silver-edged powdery red terminal leaves.
Almost opposite is a grouping of White Holly, Auranticarpa rhombifolia [Section 96]. Tall shrubs crowned with glossy green leaves and clusters of small orange fruits which followed on from small white flowers.
Pass by few correas including Correa alba [Section 72] with cream star-like flowers and Correa pulchella [Section 72] with red tubular bells.
Babingtonia 'Howie's Sweet Midget' [Section 87] is a neat rounded dense shrub of medium size clad with tiny white flowers.
Alpine mint bush, Prostanthera cuneata [Section 87] has large white flowers over the dark green foliage.
While across the road Correa 'Ivory Bells' [Section 75] is a low spreading shrub with prominent flowers.
Callistemon 'White Anzac' [Section 87] is a low spreading shrub profuse with white bottlebrushes some browned with frost.
Banksias include Banksia conferta [Section 75] is a tall shrub crowned with cream flower spikes
While Hakea verrucosa [Section 75] is a neat rounded shrub with open red flowers.
Banksia oblongifolia [Section 75] is a low spreading shrub with a profusion of flower spikes shaded from bottle green to a lime shade.
Close is Grevillea 'Coconut Ice' [Section 75] a small upright shrub displaying few of its terminal cream-red flower heads and many buds.
Close to the building at the corner, Melaleuca radula [Section 201] has cream fluffy flowers and deep purple buds on the open shrub.
Taking the road down to the right, crowded among other shrubs, Thomasia sp. [Section 202] reveals its attractive pink cup shaped flowers among its grey-green foliage.
Continuing down the road, Pittosporum revolutum [Section 202] in a group, are upright of medium size with dark foliage and noticeable with large bright yellow fruits opening to reveal its small bright red seeds.

To return enjoy the flowers from any path to the right.
Barbara Daly.