In Flower This Week
A weekly news sheet prepared by a Gardens' volunteer.
Numbers before each plant refer to temporary IFTW labels in the gardens.
Numbers in square brackets [ ] refer to garden bed Sections. Plants in flower are in bold type.
View past issues of 'In Flower This Week'.
8 June 2012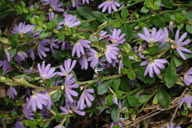 Scaevola albida
click for larger image
This wintery walk is to view selected flowers in the Rock Garden. However the colourful orchids in the Information Centre are also worth viewing. To arrive at the Rock Garden take the path on the far side of the Rainforest Gully then taking the Main Path which will reach the water feature.
Take the stairs edged by Banksia integrifolia subsp. integrifolia [Section 15c] which is a dense shrub with cylindrical upright lemon flower spikes amid the dull green foliage.
Opposite this you'll find Correa 'Ivory Bells' [Section 15d], a dense rounded shrub laden with ivory coloured flowers which are almost star-shaped.
Close beside is Banksia spinulosa 'Honeypots' [Section 15d] an almost upright shrub attractive with its deep honey coloured flower spikes.
In front is the jug flower, Adenanthos obovatus [Section 15d] a small open upright plant with terminal sprays of loose red flowers. Beside, notice small mounds of Brachyscome multifida with small mauve daisy-like flowers above the soft foliage.
In the next garden, between the rockface, Hibbertia serpyllifolia [Section 15f] is a prostrate plant, bright with yellow petal flowers.
Nearby is Platytheca galioides [Section 15f] a small many branched plant clad with bright blue, mostly downturned flowers.
Beside the stairs around the corner, Grevillea 'Mason's Hybrid' [Section 15h] is a large ageing shrub bearing its lovely terminal pinkish cream flowers.
Opposite, Homoranthus biflorus [Section 15a] is of medium size with lateral flat topped branches terminating with red buds changing to yellow nectar-laden flowers.
Behind is Plectranthus argentatus [Section 15a] a suckering herbaceous plant with large velvety leaves and spikes of bluish flowers.
Edging the top road, Grevillea lanigera [Section 15h] is a spreading groundcover dense with pinkish cream flowers.
Scaevola albida [Section 15h] with small mauve fan-shaped flowers on small mounded plants edge the road.
The Wee Jasper Spider, Grevillea iaspicula [Section 15h] is a medium upright shrub crowded with obvious tight cream-red buds.
At the corner is Cryptandra sp.[Section 15h] a small many branched shrub, white with cream buds. Take the path between the grass trees, Xanthorrhoea johnsonii [Sections 15 -14].
Near the corner, Banksia spinulosa 'Birthday Candles' [Section 15L] is bright with golden flower spikes on a low spreading shrub.
In the adjacent garden, Dampiera linearis [Section 15r], is a small, low spreading, suckering plant with bright blue flowers
Obvious, behind the seat, Leucopogon neoanglicus [Section 15k] is a dense low spreading shrub, pink with tiny tubular flowers
Take the narrow path behind the sundial along which Thryptomene sp. [Section 15r] covers its arching branches with tiny pink flowers.
Baeckea crassifolia [Section 15r] is a small many branched shrub with tiny white flowers among the darker foliage.
Labichea lanceolata [Section 15r] has yellow open flowers over this shrub of medium size.
Darwinia masonii [Section 15r] is a slim open shrub with interesting bell shaped, almost pendent red flowers.
The path then joins the Main Path where, opposite the ponds and waterfall a bottlebrush, Callistemon recurvus [Section 4] bears short red flowers on arching branches.
There too, is Guichenotia ledifolia [Section 4] a rounded shrub with a profusion of pale pink downturned flowers.

Now time to sit and enjoy the beauty of this area.
Barbara Daly.