In Flower This Week
A weekly news sheet prepared by a Gardens' volunteer.
Numbers before each plant refer to temporary IFTW labels in the gardens.
Numbers in square brackets [ ] refer to garden bed Sections. Plants in flower are in bold type.
View past issues of 'In Flower This Week'.
25 May 2012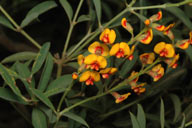 Gastrolobium propinquum
click for larger image
Today's walk is to view the flowers in the Mallee Section which contains species of South and Western Australia found above the Ducrou Pavilion. There will be some noisy background from the Red Centre construction site nearby. It is also an opportunity to view the workings of that site. To arrive there see the overleaf map.
Follow the road up from the Ducrou Pavilion where Grevillea tetragonoloba [Section 100b] is seen. It is a spreading shrub with fine divided leaves and red toothbrush-like flowers.
Take the path to the right and enter the boardwalk walking in an anticlockwise direction. Gastrolobium propinquum [Section 100b] is an upright plant of medium size bearing small orange pea-shaped flowers with red throat.
In the valley opposite, Grevillea dielsiana [Section 100a] is an open shrub with fine divided leaves and attractive orange terminal flowers.
Kangaroo Paws, Anigozanthos rufus 'Kings Park Federation Flame' [Section 100b] with strappy leaves surrounding the tall upright stems with terminal clusters of buds which will open to dark red flowers.
A grouping of Lechenaultia biloba [Section 100b] display powder blue flowers on the small upright plants.
They mix with Dampiera lanceolata var. lanceolata [Section 100b] with blue flowers on long wiry stems.
Emubush, Eremophila bignoniiflora x polyclada [Section 100b] is an ageing shrub bearing few large bugle-shaped flowers coloured cream with dark spotted throat.
Thryptomene denticulata [Section 100b] is so florific with a coverage of tiny pink flowers over the low arching plant.
Around the curve where there is good viewing of the Red Desert works below, Dampiera linearis [Section 100a] is a small upright plant clad with blue flowers.
Nearby Diplolaena grandiflora [Section 100a] is a dense shrub with dusky red flower heads in prominent green bracts.
Banksia epica [Section 100a] is a small rounded shrub with yellow upright cylindrical flower spikes.
A wattle, Acacia aphylla [Section 100a] is an upright spiny shrub dotted with yellow flower balls.
Hibbertia furfuracea [Section 100c], crowded by other shrubs, is a medium tall shrub bright with large open yellow flowers.
Nearby is the winged wattle, Acacia alata [Section 100c] with white fluffy flower balls along the flattened zig-zag stems.
Hibbertia furfuracea [Section 100c] has bright yellow flowers, seen amongst the greenery.
Banksia oreophila [Section 100a] is a small upright shrub with somewhat sandy coloured flower spikes.
Banksia heliantha [Section 100a] has obvious large yellow flower heads among the toothed leaves.
Hakea cycloptera [Section 100c] is a large fairly dense shrub with long needle-like leaves and prolific with white lacy flowers.
At the exit, Banksia ericifolia [Section 103] is a large old shrub brilliantly displaying its long rich gold flower spikes....Seen, in the distance, tall shrubs topped with orange fruits. The shrubs are the White Holly Auranticarpa rhombifolia [Section 96]
Opposite the entry to this section, the upright shrub of mauve daily-like flowers is that of an Olearia sp.[Section 41] Beside is a Geraldton Wax, Chamelaucium uncinatum 'Cascade Jewel' [Section 41] also dense of medium size, with pink waxy flowers.

So many flowering plants can be enjoyed on whichever return path taken.
Barbara Daly.