In Flower This Week
A weekly news sheet prepared by a Gardens' volunteer.
Numbers before each plant refer to temporary IFTW labels in the gardens.
Numbers in square brackets [ ] refer to garden bed Sections. Plants in flower are in bold type.
View past issues of 'In Flower This Week'.
18 May 2012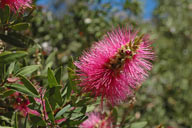 Callistemon citrinus 'Mauve Mist'
click for larger image
The Orchid show in the Information Centre continues to be varied and colourful. The selection of flowers on this walk are only a few to be admired.
On the Main Path towards the far end of the offices Corymbia 'Summer Beauty' [Section 240] displays its pink fluffy flowers atop the small upright tree snug among other shrubs.
Around the corner Corymbia 'Summer Red' [Section 240] bears rose red fluffy flowers on its small upright tree.
Worth viewing at the lower end of the ramp with railing to the garden below, is the Possum Banksia, Banksia baueri [Section 310] a medium sized shrub with large curly woolly flower spikes set among the toothed leaves.
Take the road up beside the offices to view, below the large white branches of the Pryors tree, Eucalyptus mannifera, Thryptomene saxicola 'Pink Lace' [Section 10] clad with tiny pink flowers on the low spreading shrub.
Cross over to continue along the Main Path, viewing a bottlebrush, Callistemon citrinus [Section 9] bright with crimson flowers, along the right path.
Further along the path, Banksia heliantha [Section 30] is small and dense, bright with large yellow flower heads.
Banksia spinulosa 'Honeypots' [Section 30], opposite Banksia spinulosa 'Birthday Candles' is a small upright shrub with honey coloured flower spikes.
Turn left on a small path where Callistemon citrinus 'Mauve Mist' [Section 30] presents with reddish bottlebrush flowers.
Follow the small path passing Callistemon pallidus 'Candle Glow' [Section 30], with lemon coloured flowers on the dense shrub which blends with Callistemon citrinus 'White Anzac' bearing white bottlebrushes.
Homoranthus flavescens [Section 30] is a low shrub with layered branches terminating with yellow upright flowers.
Take the right path where Banksia 'Giant Candles' [Section 30] with large glowing gold flower spikes is seen on the left.
Follow the upper path to the right along which is Grevillea diminuta [Section 25] a dense hedge shrub profuse with dangling rust coloured flowers.
Banksia robur [Section 25] is a large, spreading shrub with large leathery leaves and a mix of coloured flower spikes according to their age including narrow immature dark green to brown.
At the crossing with the Main Path, Grevillea 'Coconut Ice'[Section 25] displays its terminal red flower clusters while
Opposite is Grevillea 'LadyO' [Section 26] with low lateral branches clad with many buds and fewer red spider-like flowers.
Grevillea flexuosa [Section 25] is a dense spreading shrub displaying the first of its cream cigar shaped terminal flowers.
Lambertia ericifolia [Section 25] has 'well designed' orange flower clusters on the upright open shrub
Across the road the large Banksia conferta subsp. penicillata [Section 26] has yellow flower spikes mixing with many dark spent spikes. While nearby,
Banksia spinulosa var. neoanglica [Section 26] is a medium upright shrub, with its outstanding bright yellow flower spikes.
Towards the end of this road, Grevillea floribunda subsp. floribunda [Section 26], in a group, is an open shrub of medium size attractively decorated with dangling threads of furry rust coloured flowers.
Across the road at the corner, Banksia spinulosa var. spinulosa [Section 25] is a dense, medium sized shrub bright with rich gold flower spikes.
To return, take any parallel path back to the cafe and beyond.
Barbara Daly.