In Flower This Week
A weekly news sheet prepared by a Gardens' volunteer.
Numbers before each plant refer to temporary IFTW labels in the gardens.
Numbers in square brackets [ ] refer to garden bed Sections. Plants in flower are in bold type.
View past issues of 'In Flower This Week'.
11 May 2012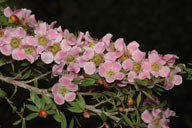 Leptospermum squarrosum
click for larger image
Be a cold dreary day or a sunny day a walk along the Main Path is always a pleasant experience. It curves between the magnificent eucalyptus trees, the Sydney Basin, the Eucalyptus Lawn, Rock Garden and the Rainforest. Banksias and grevilleas are many so only few will be included. The walk starts at the far end of the offices.
Following this path a teatree, Leptospermum squarrosum [Section 12] is an open tall shrub crowned with soft pink open flowers.
Thryptomene sp. [Section 10] is a low spreading shrub profuse with tiny pink flowers.
The upright many branched shrub with few cherry pink flower clusters is Melaleuca fulgens 'Hot Pink'[Section 10]
Past the bed of yellow flowers, Banksia ericifolia [Section 30] is a grand old shrub revealing its golden upright cylindrical flower spikes while behind, Banksia 'Giant Candles' displays its elongated flower spikes.
In a pot close by, Grevillea saccata is a dwarf shrub with branches clad with grey-green foliage and interesting terminal yellow tipped red flower clusters. Behind is Grevillea diminuta [Section 30] with dangling clusters of rust coloured flowers among the dull green foliage.
Banksia 'Birthday Candles'[Section 30] has an abundance of juvenile and matured golden flower spikes over this dwarf spreading shrub while
Banksia integrifolia subsp. integrifolia [Section 30] is a prostrate plant with lemon flower spikes among the dull green, silver backed leaves.
Crossing the next road, Hakea cycloptera [Section 24] has many branches, all clad with creamy pink lacy flowers.
Grevillea dielsiana [Section 26] has orange-red flower clusters dangling among the fine foliage. Among the grand white-grey trunks of eucalypts, other grevilleas can be seen.
The road then continues to the Sydney Region. The newly developed area contains many small waratahs, Telopea speciosissima x oreades [Section 191s, 191h] with large buds and some heads of deep red flowers.
Acacia suaveolens [Section 191p] has golden wattle sprays on a tall shrub, seen among other plants.
At the turnoff to the Display Glasshouse, Black-eyed Susan, Tetratheca thymifolia [section 191j] is a low shrub with small downturned pink flowers.
In the Display garden, flannel flower, Actinotus helianthi [Section 191u] has soft white petalled flowers and velvet-grey foliage
Behind the seats Crowea saligna [Section 191u is a low spreading shrub displaying its lovely large pink star flowers.
Across the Eucalyptus Lawn the Pincushion hakea, Hakea laurina [Section 20] is a tall almost bare shrub bearing golf ball size rounded red-yellow flowers
Across to the Rock Garden, abounding with interesting plants including Guichenotia ledifolia [Section 4] clad with downturned pink cup shaped flowers. Seen in front of the waterfall and pools.
Grevillea lanigera [Section 15c] is a prostrate plant clad with pink spider-like flowers.
The large yellow flowers of Hibbertia scandens [Section 15c] are seen on the vine which climbs up nearby shrubs.
Beside is Banksia aemula [Section 15c], a large dense shrub bearing cream flower spikes.
A walk then winds through the embracing Rainforest in which is a Brush Cherry, Syzygium australe [Section 147].

Barbara Daly.