In Flower This Week
A weekly news sheet prepared by a Gardens' volunteer.
Numbers before each plant refer to temporary IFTW labels in the gardens.
Numbers in square brackets [ ] refer to garden bed Sections. Plants in flower are in bold type.
View past issues of 'In Flower This Week'.
20 April 2012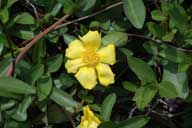 Hibbertia scandens
click for larger image
This walk on this perfect autumn day is to view selected flowers in the Rock Garden. However, outside the doors of the Visitors Information Centre, in pots are kangaroo paws, Anigozanthos 'Bush Volcano' clad with dusky red 'paw' flowers and Anigozanthos 'Bush Diamond' showing its grey, almost white flowers, all on tall upright stems surrounded by long strappy leaves.
To arrive at the Rock Garden follow the path on the far side of the Rainforest turning right where it meets the Main Path which will reach the Rock Garden waterfall. It will pass Banksia aemula [Section 15c], a large dense shrub profuse with honey coloured flower spikes and few fresh lemon flower spikes.
Beside is Hibbertia scandens, [Section 15c] which climbs over anything but bright with large yellow open flowers.
Taking the stairs Banksia integrifolia subsp. integrifolia [Section 15c] is a dense shrub showing its lemon flower spikes amid the dull green foliage.
Almost opposite, crowded beside a shrub, Banksia spinulosa 'Honeypots' [Section 15d] displays its honey coloured flower spikes on a small upright shrub.
The path here is lined with small mounds of Brachyscome multifida [Section 15d] bright with small mauve daisies with soft foliage.
Hypocalymma xanthopetalum [Section 15f] with trunk snaking along the ground ending with tiny yellow flowers among its foliage. A scattering of Lechenaultia biloba [Section 15f] with powder blue flowers on the small plants is close by.
The other side of this section Rulingia luteiflora [Section 15f/15h] is a dense spreading shrub clad with tiny yellow flowers. Beside is a much smaller shrub, Platytheca galioides [Section 15f], clad with vivid blue flowers.
Beside the upward stairs, Grevillea 'Mason's Hybrid' [Section 15h] is a large ageing shrub bright with cream and red terminal flowers.
At the top corner Grevillea lanigera [Section 15h] is a spreading groundcover prolific with pinkish cream flowers.
Along this top road, Scaevola albida var. albida [Section 15h] is yet a small plant bearing small mauve fan shaped flowers.
Taking the next path between grass trees, Xanthorrhoea johnsonii [Section 15, 14] and the tall hedge, Banksia integrifolia [Section 15l, profuse with lemon flower spikes.
At the corner Banksia 'Birthday Candles' [Section 15 l] is a dwarf spreading shrub prolific with golden flower spikes.
Behind, in patches are Dampiera sylvestris [Section 15 l] low suckering plants with bright blue flowers on upright stems.
Close by a wattle, Acacia aneura [Section 15 l] is a small open tree with tiny rod shaped yellow flowers.
Following the path downwards, Senecio linearifolius var. dangarensis [Section 15r] has upright trunks crowned with loose yellow flowers.
In a pot Verticordia pennigera [Section 15r] is a small shrub clad with bright pink feathery flowers which add brightness to the area.
Almost opposite, Dampiera salahae [Section 15s] growing between the rockface has deep blue flowers. At the bottom of this section, not in flower but so attractive, Eucalyptus macrocarpa [Section 15s] with its limbs and large leaves almost white.
Opposite the pools and waterfall, Guichenotia ledifolia [Section 4] has in profusion, pale pink downturned flowers on the rounded shrub.
Time now to sit and enjoy the nearby beauty shared with the chorus of rosellas and tiny fairy wrens.

Barbara Daly.