In Flower This Week
A weekly news sheet prepared by a Gardens' volunteer.
Numbers before each plant refer to temporary IFTW labels in the gardens.
Numbers in square brackets [ ] refer to garden bed Sections. Plants in flower are in bold type.
View past issues of 'In Flower This Week'.
13 April 2012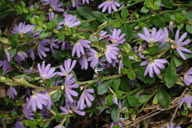 Scaevola albida
click for larger image
Such a pleasant autumn day to stroll along the Main Path which winds through magnificent eucalyptus trees, the Sydney Basin, the Rock Garden and the Rainforest. The walk starts at the far end of the cafe building close to Eucalyptus 'Summer Red' which shows off its fiery red flowers.

Continue along the Main Path,passing Thryptomene sp.[Section 10], a low spreading shrub profuse with tiny pink flowers.
Follow the path by the garden of yellow daisies to view a banksia, one of many flowering in the Gardens. This one is Banksia ericifolia [Section 30] which displays many juvenile and mature gold upright cylindrical flower spikes.
Behind the seat Grevillea diminuta [Section 30] is a rounded shrub with dangling clusters of rust coloured flowers among the dull green foliage.
Banksia 'Birthday Candles' [Section 30] has many juvenile and matured golden flower spikes on the dwarf spreading shrub while
Banksia integrifolia subsp. integrifolia [Section 30] is a prostrate plant with lemon spikes among the dull green, silver backed leaves.
At the cross-roads, Grevillea 'Coconut Ice' [Section 25] is a now spreading shrub with interesting leaves and terminal sprays of pink-red flowers........today there are many yellow tailed black cockatoos flying above, all singing their own song.
Across the road, Grevillea 'Lady O' [Section 26] is also a low shrub with fiery red spider like flowers dangling from the lateral branches. Beside is Banksia marginata 'Cape Patterson Dwarf' [Section 26] of similar size with small green-gold flower spikes.
Pass by many grevilleas and close to the next road Grevillea sericea [Section 30] has white spider-like flowers on the medium upright plant.
Across the road, among the grand mottled grey tree trunks of the gum trees, Crowea exalata [Section 112] is sparkling with small pink star-like flowers over the rounded shrub.
At the end of this section, Correa 'Canberra Bells' [Section 112] is small and so pretty with red and deep cream tube shaped flowers. (It has been chosen to commemorate Canberra's centenary, 1913-2013).
The path then wanders through the Sydney Region Gully where the garden has recently been replanted. The small herb, Goodenia paniculata [Section 191h] is bright with small yellow flowers edging the stems. There also are waratahs, Telopea sp. upright shrubs crowned with large buds.
Epacris calvertiana var. calvertilana [Section 191j] has small white tubular flowers edging its long wiry stems.
At the turn-off to the Display Glasshouse, Scaevola albida [Section 191j] has a profusion of small pink fan-shaped flowers over the low spreading plant.
In the Display Garden, Hibbertia pedunculata [Section 191u] a dense groundcover bright with yellow open petalled flowers. There too is the renowned flannel flower, Actinotus helianthi [Section 191u, 191l] with soft white petalled flowers and velvet-grey foliage.
Behind the seat Crowea saligna [Section 191u] is a low spreading shrub displaying its large pink, so attractive flowers.
Stroll through the Eucalyptus Lawn dotted with a variety of trees and down to the wattle section where Acacia subulata [Section 18] is clad with soft yellow perfumed flower balls.
The Rock Garden abounds with interesting plants which include Guichenotia ledifolia [Section 4] a rounded shrub clad with down- turned pink cup shaped flowers.
The view of the waterfall, the pools and the environment are so pleasant, likewise a walk along the winding path of the Rainforest.
Barbara Daly.