In Flower This Week
A weekly news sheet prepared by a Gardens' volunteer.
Numbers before each plant refer to temporary IFTW labels in the gardens.
Numbers in square brackets [ ] refer to garden bed Sections. Plants in flower are in bold type.
View past issues of 'In Flower This Week'.
23 March 2012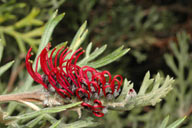 Grevillea beadleana
click for larger image
The orchid displays, inside the Visitor Centre are colourful and forever changing. The flowers edging the Banks Walk are colourful. However this walk follows the road on the far side of the Rainforest.
A wattle, Acacia fauntleroyi [Section 128], behind the cafe, is a tall hairy trunk, has fine leaves and a scattering of yellow flower balls.
Almost opposite, edging the Rainforest, Clerodendrum floribundum var. attenuatum [Section 125] is a tall upright shrub with thin spotted trunk, and among the foliage are the smooth scarlet calyx surrounding large green fruit. White flowers persisted beforehand.
Edging the road Swamp Lillies, Crinum pedunculatum [Section 125] are large bulbous plants with long narrow fleshy leaves and sprays of open white flowers on long stems.
In a corner Grevillea bipinnatifolia 'Jingle Bells' [Section 124] stands tall with terminal red flower sprays brightening the surrounding foliage.
Grevillea 'Goldfever' [Section 124] continues to bear apricot coloured spider-like flowers over a low spreading shrub.
Acronychia imperforata [Sections 114,104] is a tall dense shrub with large shiny leaves and clusters of creamish rounded fruits in clusters
A Tall Saw-sedge, Gahnia clarkei [Section 78] is dense with long narrow rough edged leaves and long stems with black plumes.
The triangle garden contains Epacris calvertiana [Section 17] a dense wiry plant with small white tubular flowers edging the stems, while
Beside, a Geraldton Wax, Chamelaucium 'Cascade Brook' [Section 17] is a many branched shrub crowned with many pink wax open flowers.
Leptospermum amboinense [Section 104,140] is a dense many branched shrub profuse with white petalled flowers.
Hibiscus splendens [Section 104] displays its few deep pink flowers and many buds among the dull rough foliage.
Turning right at the stairs beside which is the Silver-leaved Mountain Gum, Eucalyptus pulverulenta [Section 36] a small upright tree with silvery grey, almost rounded leaves appearing to be attached to the trunk.
Almost surrounding is Banksia speciosa [Section 36], a large dense shrub with long narrow deeply indented leaves and still with grey-green acorn shaped flower spikes.
Follow the path to the right passing numerous banksias, mostly with small juvenile flower spikes also Banksia media [Section 36], a low misshapen dense shrub displaying mature cinnamon coloured compact flower spikes.
Close to the covered shelter a waratah, Telopea mongaensis [Section 36] with out-of-season inferior red flower heads.
Beside is Banksia marginata [Section 36] a tall dense shrub local to the area, well clad with short yellow flower spikes.
There too, is Grevillea beadleana [Section 36], a low spreading shrub with soft green foliage and scattered with maroon coloured toothbrush like flowers.
There are numerous banksias on the far side of the covered shelter before following the zig-zag paths back downhill.

Barbara Daly.