In Flower This Week
A weekly news sheet prepared by a Gardens' volunteer.
Numbers before each plant refer to temporary IFTW labels in the gardens.
Numbers in square brackets [ ] refer to garden bed Sections. Plants in flower are in bold type.
View past issues of 'In Flower This Week'.
16 March 2012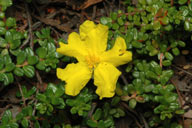 Hibbertia vestita
click for larger image
Tis a short walk with many flowers of differing shapes and sizes, many of which can be grown in home gardens. Almost opposite the doors of the Visitor Centre, Scaevola calliptera dangles its stems with deep purple fan shaped flowers over the edge of the pot.
While almost opposite Scaevola aemula 'Aussie Crawl' [Section 174], creeps along the ground also attractive with paler purple flowers.
Edging the Banks Walk seen also the Victorian national emblem, Epacris impressa [Section 174] with wiry branches clad with pink tubular flowers.
At its base Hibbertia vestita [Section 174] is a small dense shrub brightened with open yellow flowers.
Continue over the bridge, where in front of the tall Sydney Blue Gum, Eucalyptus saligna with pink-grey trunk, Platytheca galioides [Section 240] is a small plant with small purple flowers edging the branches.
A grouping of Correa 'Canberra Bells' [Section 240] small shrubs pretty with red and cream tubular flowers daintily hanging from its branches. This plant has been chosen to commerate Canberra's centenary, 1913-2013.
Beside is a grouping of Lechenaultia biloba [Section 240] small plants displaying powder blue flowers.
Opposite, in the Ellis Rowan garden Epacris 'Nectar Pink' [Section 131] is quite stunning with its long branches clad with pink and white tubular flowers.
Crowea 'Cooper's Hybrid' [Section 240] is quite a large dense shrub displaying its pink star flowers.
Around the corner to the right is Eucalyptus 'Summer Red' [Section 240], a small upright tree displaying its large open fluffy red flowers and many buds, among the upper foliage.
Opposite is a grove of bottlebrushes, Callistemon viminalis [Section 310] tall shrubs with red bottlebrushes dangling from the arching branches
There also is Callistemon 'Baroondah Station' [Section 320] displaying its smaller soft pink bottlebrushes.
At the entrance to the Education Centre there is a dense groundcover of native violets, Viola hederacea [Section 320] profuse with small white and purple flowers.
Opposite the violets Banksia 'Giant Candles' [Section311] is a large shrub with quite long rust coloured juvenile flower spikes which will mature to a gold colour. Return to the Ellis Rowan garden and continue up hill.
The orange fruits seen among other shrubs are those of the vine, Wombat Berry, Eustrephus latifolius[Section 127].
On reaching the magnificent Pryor Tree, Eucalyptus mannifera, [Section 10] with its white trunk and branches follow the road to the left.
A vine, Pandorea jasminoides [Section 124] with large white flowers, climbs over shrubs
While below, a dense groundcover, Scaevola albida [Section 124] has a covering of small pink fan-shaped flowers.
Grevillea 'Goldfever' [Section 124] is a small dense shrub bearing apricot coloured flowers
While around the corner Grevillea 'White Wings' [Section 124] is of medium size with fine foliage and sprinkled with feathery white flowers.
The corner is clad with Grevillea 'Poorinda Royal Mantle' [Section 124] a dense groundcover with deep red toothbrush-like flowers.
In the centre is an upright shrub, Grevillea bipinnatifida 'Jingle Bells' [Section 124] crowned with prickly divided leaves so attractive with its terminal long red-orange flower clusters.
The clouds have vanished, the sun shines, small birds including the blue or brown fairy wrens dance among the leaf litter and the colourful crimson rosellas add colour to the trees above.

Barbara Daly.