In Flower This Week
A weekly news sheet prepared by a Gardens' volunteer.
Numbers before each plant refer to temporary IFTW labels in the gardens.
Numbers in square brackets [ ] refer to garden bed Sections. Plants in flower are in bold type.
View past issues of 'In Flower This Week'.
9 March 2012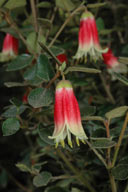 Correa 'Canberra Bells'
click for larger image
Grey clouds yesterday, sunshine today, what will tomorrow bring? Regardless this walk follows the Main Path and is always a pleasure so come and enjoy it. Many banksias are in bud as are other plants and only a few can be mentioned. The walk commences at the far end of the cafe building.
A large bottlebrush, Callistemon viminalis [Section 310] with red bottlebrush-like flowers dangle from the arching branches and the trunk clad with deep indented bark.
Following the main path Thryptomene sp. [Section 10] is a low spreading shrub profuse with tiny pink flowers. At the cross-roads Callistemon chisholmii [Section 10] is tall and attractive with an overhead coverage of small pale pink bottlebrushes.
Later, the sweetly scented perfume is from the large dense shrub, Grevillea phanerophlebia [Section 30] clad with dainty white flowers
Almost opposite Banksia 'Birthday Candles' [Section 30] is a dwarf spreading shrub profuse with pencil-like buds and now with mature gold flower spikes.
Behind a notice board Banksia pilostylis [Section25] has yellow flower spikes over the rounded shrub.
At the next intersection Grevillea 'LadyO' [Section 26] is brilliant with fiery red spider-like flowers dangling from the low lateral branches.
A geebung, Persoonia acerosa [Section 26] is a low spreading shrub yellow with small tubular flowers.
Grevillea dielsiana [Section 26] has orange-red flower clusters dangling among its fine foliage.
At the next intersection Crowea exalata [Section 112] has pink star-shaped flowers over the small shrub
While at the far end of this path Correa 'Canberra Bells' [Section 112] shows off its brilliant bell shaped flowers coloured dusky red and cream. (This flower was chosen to commemorate Canberra's centenary, 1913-2013)
The path then wanders through the Sydney Region gully. At the turn-off to the hothouse Scaevola albida [Section 191j] is a low spreading plant profuse with small pink fan- shaped flowers.
Melaleuca thymifolia [Section 191e] displays is small rounded curly mauve-pink flowers among other shrubs
In the Display garden, Hibbertia pedunculata [Section 191u] is a dense groundcover spotted with its bright yellow open flowers.
Close by is the renowned flannel flower, Actinotus helianthi [Section 191u,191l] with velvety grey foliage and soft white flowers on upright stems.
Behind the arched seat Crowea saligna [Section 191u] is so attractive with waxy deep pink flowers over the low spreading shrub.
Towards the exit to this section Scaevola ramosissima [Section 191l] creeps about the rocks with purple fan shaped flowers along the small vines. Follow the path which winds through the Eucalyptus Lawn, down to the Rock Garden which abounds with colourful plants. Close to the pools, Eucalyptus macrocarpa [Section 15s] is an upright plant attractive with silver grey leaves along its stems but not in flower.
Pass by the rock pool, with water dragons, and waterfall, continuing past the large Banksia aemula [Section 15c] bright with cream flower spikes.
View, at the crossroad, Backhousia citriodora [Section 78] a neat tall shrub with clusters of cream fluffy flower clusters.
Then wander through the Rain Forest, so green, so fresh, with the sound of the rushing water in the stream below.

Barbara Daly.