In Flower This Week
A weekly news sheet prepared by a Gardens' volunteer.
Numbers before each plant refer to temporary IFTW labels in the gardens.
Numbers in square brackets [ ] refer to garden bed Sections. Plants in flower are in bold type.
View past issues of 'In Flower This Week'.
17 February 2012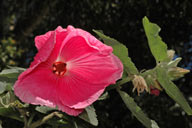 Hibiscus splendens
click for larger image
Being in the Botanic Gardens is always a pleasant experience where there are a variety of flowers to enjoy. This walk follows the road on the far side of the Rainforest Gully, viewing first, in front of the Visitors Information Centre, in a pot Rhododendron viriosum which is a low growing shrub with orange-red trumpet shaped flowers. Opposite, in a pot is Scaevola calliptera, a trailing plant bright with deep purple fan shaped flowers. Banksia walk has a variety of flowers.
Opposite the cafe a Conjevoi lily, Alocasia brisbanensis [Section 125] with large spade shaped leaves surrounding a yellow floral spike on a long stem which appears to be almost enclosed in a pale green shield.
Edging the road are Swamp Lillies, Crinum pedunculatum [Section 125] large bulbous plants with long narrow fleshy leaves and long stems terminating with sprays of open white flowers.
At the next corner the ground cover is Grevillea 'Poorinda Royal Mantle' [Section 124] a dense plant with red toothbrush flowers. In the centre is Grevillea bipinnatifida 'Jingle Bells' [Section 124] with terminal red flower sprays amid the foliage.
The tall shrub behind is Callistemon 'Howie's Fire Glow' [Section 124] bright with the red bottlebrush flowers.
Grevillea 'Goldfever' [Section 124] has apricot coloured spider-like flowers among the dense foliage.
Edging the rainforest gully, Native Rosella, Hibiscus heterophyllus [Section 114,104] displays the pink-streaked white flowers over the open shrubs
While Hibiscus divaricatus [Section 114] has large yellow flowers.
Beside the seat Psychotria sp. [Section 104] Is a medium size shrub clad with small white fluffy flowers while on the other side
Callistemon montanus [Section 104] with short red bottlebrushes and red tipped new terminal leaves, leans towards the road.
Leptospermum amboinense [Section 104] a teatree with an abundance of small open flowers over the last shrub.
Close by is Hibiscus splendens [Section 104] displaying its lovely deep pink flowers among the dull foliage.
The opposite triangle garden contains many colourful kangaroo paws now passing their best. However Anigozanthos 'Bush Ranger' [Section 17] has bright 'paw shaped' flowers and Anigozanthos 'Bush Ruby' [Section 17] has burgundy coloured flowers, also on upright stems surrounded by strappy leaves. Edging this section are small plants, Brachyscome multifida 'Breakoday' [Section 17] clad with small mauve daisy-like flowers.
Seen on the other edge of the garden, Chrysocephalum apiculatum [Section 17] has small yellow-orange clusters on upright stems among the grey foliage.
Opposite, Crowea 'Festival' [Section 123] has bright pink star shaped flowers over the yet small shrubs.
Walking uphill, passing below branches of a wattle, Acacia melanoxylon [Section 140] a large tree clad with cream perfumed flowers to view.
Banksia speciosa [Section 36] next to the stairs, a large spreading shrub with narrow serrated leaves and with few cream-green flower spikes, some resembling acorns.
Edging this side path is Banksia media [Section 36] an ageing shrub of medium size clad with many compact mustard coloured flower spikes.
Towards the covered shelter is an out-of-season waratah, Telopea mongaensis [Section 36] a shrub of medium size with numerous smaller than normal open flowers.
To return, take any zigzag path to the Rock Garden and so downhill to the cafe.

Barbara Daly.