In Flower This Week
A weekly news sheet prepared by a Gardens' volunteer.
Numbers in square brackets [ ] refer to garden bed Sections. Plants in flower are in bold type.
View past issues of 'In Flower This Week'.
10 February 2012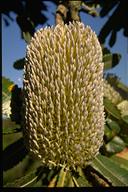 Banksia serrata
click for larger image
This walk will follow the Main Path but first opposite the doors of the Visitors Information Centre, in a pot, Scaevola calliptera reveals its bold purple fan shaped flowers along the trailing stems. Another plant of interest is Corymbia 'Summer Red' [Section 240], an upright shrub now with a cluster of bright red fluffy flowers and with many pinkish buds to follow.

Following the path, Melaleuca fulgens 'Hot Pink' [Section 10] is an upright shrub with hot pink flower clusters seen among the foliage. Thryptomene denticulata [Section 9] is a low shrub with lateral branches clad with tiny pale pink flowers. Passing the bed of mixed yellow daisies, Babingtonia 'Howie's Feathertips'[Section 30] is upright and tipped with small white flowers while below the tall Banksia serrata [Section 30] with long extended branches, well endowed with grey-green flower spikes, some resembling acorns, Banksia 'Birthday Candles' [Section 30] is a dwarf spreading shrub profuse with juvenile green spikes some now changing colour. (there are now many banksias bearing juvenile spikes). Behind the notice board Banksia pilostylis [Section 25] is a neat rounded shrub clad with cream flower spikes.

Crossing the next road Grevillea 'Lady O'[Section 26] is a low shrub pretty with red flower clusters on the lateral branches. A Geebung, Persoonia acerosa [Section 24] which has bright green foliage, is a medium rounded shrub dotted with tiny yellow tube shaped flowers. Another road to cross to view Crowea exalata [Section 112] a group of shrubs with pink star shaped flowers. At the exit is Correa 'Canberra Bells'[Section 112] …this shrub commemorates Canberra's centenary, 1913-2013 … a small colourful shrub with bright red/cream tube shaped flowers. Across this road leads to the Flora of the Sydney Region. In the newly developed area, Solanum linearifolium [Section 191s,191h] small open shrubs beautified with bold purple open flowers. At the turn-off to the glass-houses, Hibbertia pedunculata [Section 191j] is a dense prostrate plant bright with yellow open flowers. Beside is Scaevola albida [Section 191j] also a dense prostrate plant profuse with small pale pink fan-shaped flowers. In front is the Spear Lily, Doryanthes palmeri [Section 191m] with long sword-like leaves surrounding the spectacular flower spike edging the upper stem. The last of the flowers coloured red still appear at the tip of the spike. Melaleuca thymifolia [Section 191l] is a small shrub with curly pink flower clusters crowded by others. At the circular seats Flannel flowers, Actinotus helianthi [Section 191u,191l] are small velvety plants with upright white flannel flowers. Christmas Bells, Blandfordia grandiflora [Sections 191u, 191l] may still be showy with their red and yellow bell-shaped flowers on long stems. The path then wanders through the tree-studded Eucalyptus Lawn to the Rock Garden passing below the large branches of Acacia parvipinnula [Section 18] a large tree clad with perfumed lemon fluffy flower balls.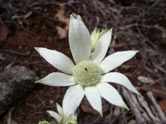 Actinotus helianthi
click for larger image
The Rock Garden has many flowers to enjoy, edging the path Goodenia macmillanii [Section 15r] a suckering plant with soft pink flowers on long wandering stems. Past the picturesque waterfall an emu bush, Eremophila christopheri [Section 15v] bears mauve trumpet-like flowers on the upright shrub while Lythrum salicaria [Section 191s] is bright with masses of pink flowers edging the upright stems. The path then leads to the Rainforest Gully, so cool, so green, so relaxing. Then down to Banks Walk where, on the lower road the scarlet coloured flowers of Corymbia 'Wildfire' [Section 174] is there to be admired.
Pleasant walking .......Barbara Daly.