In Flower This Week
A weekly news sheet prepared by a Gardens' volunteer.
Numbers in square brackets [ ] refer to garden bed Sections. Plants in flower are in bold type.
View past issues of 'In Flower This Week'.
27 January 2012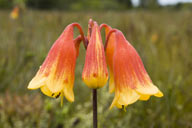 Blandfordia grandiflora
click for larger image
Flowers outside the Visitors Information Centre are so colourful. They include the lovely Christmas Bells, Blandfordia grandiflora with red and yellow large bell shaped flowers on long upright stems and Rhododendron viriosum with smaller bell shaped flowers coloured red. However this walk is about flowers of the Mallee species of South Australia and Western Australia seen above the establishing area for the Red Centre Garden. To arrive there the attached map can be followed.

The road from the Ducrou Pavilion is edged with groundcovers which include Brachyscome multifida 'Breakoday' [Section 300] clad with small daisy-like mauve flowers and the brighter Chrysocephalum apiculatum [Section 300] with small orange-yellow floral clusters. Opposite, Melaleuca nesophila [Section 100b] is an upright shrub of medium size dressed with deep mauve, fading to white, fluffy globular flowers. Close by a dense groundcover, Rutidosus sp. [Section 100b] has small button size yellow flowers on upright stems. Entering the mallee section at the corner of the road, an emubush, Eremophila warnesii [Section 100b] is almost prostrate with few thick grey hairy stems and leaves with prominent purple bugle shaped flowers. Beside, less prominent, Halgania anagalloides var. preissiana [Section 100b] is a struggling plant with thin stems and rich blue petalled flowers.

Taking the boardwalk in an anticlockwise direction Billardiera lehmanniana [Section 100a] has white flowers scattered over the dense twining plant. In the valley kangaroo paws, Anigozanthos 'Bush Noon' [Section 100a] has bright yellow 'paw' flowers on upright stems. There too, is Grevillea dielsiana [Section 100a], an upright shrub showing its orange-red fluffy flowers. Edging the path Lechenaultia biloba [Section 100a, b] has powder blue flowers over the upright stems. Thryptomene denticulata [Section 100b] is a small open shrub clad with tiny pink flowers, while close by, Melaleuca fulgens [Section 100b] is a taller open shrub bearing orange bottlebrush-like flowers.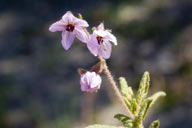 Thomasia petocalyx
click for larger image
Around the bend Corymbia ficifolia [Section100c] is an ageing tall gum beautified with a crown of rich red flower clusters. Opposite, Thomasia petalocalyx [Section100a] has downturned pink flowers over the dense shrub. Grevillea tripartita subsp. macrostylis [Section 100c] is an open shrub with long branches containing red flowers with long curved stamens. Pelargonium littorale [Section 100c] is a prostrate spreading plant with soft geranium-like leaves and pink streaked flowers. Banksia oreophila [Section 100a] is yet a small upright shrub with few slim cream flower spikes. At the exit, Anigozanthos 'Bush Sunset'[Section 100a] reveals its striking burgundy coloured flowers, seen in the valley while above Eucalyptus lansdowneana [Section 100a] has soft pink fluffy flowers, seen above other shrubs.
Returning to the road in front the garden contains climbers, Hibiscus divaricatus [Section 41] displaying its bright yellow flowers and Hibiscus heterophyllus [Section 41] which seem to cover the nearby shrub with its soft pink flowers.

Returning to the café, it is worth viewing Corymbia ficifolia 'Dwarf Orange' [Section 240], a young tree so picturesque with a covering of red fluffy flower clusters.

A pleasant walk in the gardens …Barbara Daly.