In Flower This Week
A weekly news sheet prepared by a Gardens' volunteer.
Numbers in square brackets [ ] refer to garden bed Sections. Plants in flower are in bold type.
View past issues of 'In Flower This Week'.
20 January 2012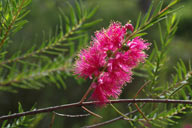 Melaleuca fulgens 'Hot Pink'
click for larger image
This is a varied walk, sometimes with many flowers, sometimes with few flowers but always an interesting walk. To start the Christmas Bells, Blandfordia grandiflora in the display outside the Visitors Information Centre, are splendid with bell shaped flowers coloured red and yellow on long upright stems. Rhododendron viriosum also bears bell shaped flowers coloured red. Flowers along Banks Walk continue to be colourful, likewise in front of the café building, taking the angular path where Correa alba [Section 240] has many buds now opening to white star flowers and Crowea 'Cooper's Hybrid'[Section 240] bears pink star flowers on the dense medium size shrub. Opposite is a small tree, Eucalyptus sp. [Section 240] colourful with large sprays of pink tinted buds.

Return to the Main Path where Melaleuca 'Hot Pink'[Sections 10,11] displays its bottlebrush like flowers clustered around stems on the upright shrub. Across the road Thryptomene denticulata [Section 9] is a small shrub with its lateral branches clad with tiny pink flowers. To view a row of colourful kangaroo paws take the upper path where the Anigozanthos species [Section 7] of yellows and reds are so colourful.

Beside the seat Babingtonia pluriflora [Section 30] is a large dense shrub clad with small white flowers while opposite, Stenocarpus angustifolius [Section 30] is also dense with clusters of small deeper cream lacy flowers. Walk below the branches of saw banksia, Banksia serrata [Section 30] a large spreading shrub laden with grey-cream flower spikes with a prostrate form, Banksia 'Pygmy Possum'[Section 30] from behind.

Continue to the road where Grevillea 'Lady O'[Section 26] has bright red pendular flowers on the low spreading branches. Follow the road where Grevillea sericea [Section 26] is upright with pink spider flowers and Persoonia acerosa [Section 26] bears its tiny tubular yellow flowers over the small upright shrub. Across the road Lambertia inermis [Section 25] is splendid with many orange coloured tubular flowers. At the corner Grevillea 'Coconut Ice'[Section 25] is a low spreading shrub with many large terminal pink-red flowers.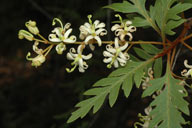 Lomatia fraseri
click for larger image
Continue down the stairs following the narrow curvaceous path where lomatias grow. Lomatia arborescens [Section 25] is a tall dense shrub with sprays of small cream coloured flowers while, off the path, Lomatia fraseri [Section 25] is shorter, dense and well clad with similar cream floral sprays and differing leaves. Follow this path where it joins another small path along which is Buckinghamia sp.[Section 27]. A large dense shrub with shiny dark green leaves and long mostly pendulous softly perfumed flower spikes. At the seat Banksia robur [Section 27] is low spreading shrub with dark leathery leaves and bottle green flower spikes, dwarfed by Banksia aemula [Section 27] a shrub, tall and dense profuse with cream flower spikes. Return paths all pass through interesting plants.

Happy walking …..Barbara Daly.