In Flower This Week
A weekly news sheet prepared by a Gardens' volunteer.
Numbers in square brackets [ ] refer to garden bed Sections. Plants in flower are in bold type.
View past issues of 'In Flower This Week'.
6 January 2012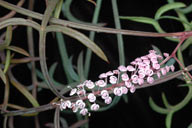 'Grevillea leptobotrys'
click for larger image
So many visitors walk from the Visitors Information Centre along Banks Walk to elsewhere as to the café or to the top of Black Mountain and often don't notice the individual flowers. This news sheet will give so many a name and number with a 'Green Gnome' beside to help identify the flower in question. (Some in pots are excluded.)

To start, inside the Information Centre a display of many orchids of Australia and elsewhere are colourful and well named. Outside the door, in pots, are Rhododendron viriosum, clad with many bell-shaped red flowers on the low shrub. Beside is Grevillea leptobotrys, a low wiry plant with strands of tiny blue flowers. On both sides of the doors are the tall majestic Christmas Bells, Blandfordia grandiflora displaying its pendulous red and yellow bells atop bare upright stems. There are yellow pompom flowers of Rutidosis helichrysoides on long scraggy stems and yellow centred white daisy-like flowers on the dwarf Brachyscome tatei while opposite, climbing the wall, Pandorea jasminoides shows its multi-pink trumpet-like flowers.

From Banks Walk, as a backdrop to Joseph Banks, Banksia serrata [Section 172]is a tall dense shrub with dark large grey-lemon cylindrical upright flower spikes among the foliage. In a pot, Platytheca galioides [Section 174] has small bluish-purple flowers on its low slender stems. Scaevola aemula 'Aussie Crawl' [Section 174] is fluorific with deep purple fan-shaped flowers over the prostrate plant. Many kangaroo paws are still flowering, Anigozanthos 'Bush Dawn' [Section 210 with yellow 'paw' flowers on upright stems beside Anigozanthos 'Bush Ruby'[Section 210] with deep red flowers. Scaevola albida [Section 174] edging the road, has pale pink fan-shaped flowers amid the dense green ground-cover while Lechenaultia biloba [Section 174] has powder blue flowers on its upright stems (this plant comes in other shades from deep blue to white).

In the car park below, the large trees, Angophora costata [Section 168] now, are crowned with white lacy flowers while continuing along Banks Walk Hibbertia vestita [Section 210] has bright yellow flowers on the dwarf plant crowded between the rocks. The group of pots here contain Pityrodia teckiana [Section 210] a small open plant with fine foliage and bugle shaped mauve and white flowers. Hypocalymma jessicae [Section 210] is also small with tiny pink flowers while Grevillea juncifolia [Section 210] is somewhat taller with fine grey-green leaves and long loose terminal flower clusters. Ptilotus manglesii [Section 210] is a low herb attractive with cylindrical heads of cream woolly flowers with a touch of pink.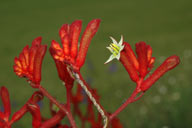 'Anigozanthos Bush Ruby'
click for larger image
Opposite, is an edging of Pelargonium rodneyanum[Section 174], dense with geranium-like leaves and bright magenta coloured flowers. Above are the white petalled flowers of an open upright plant, Chamelaucium 'Cascade Jewel'[Section 174] At the corner Chrysocephalum semiamplexicaule [Section 174] bears its small yellow flower heads on its terminal branches sharing with Grevillea 'Lady O' [Section 174] an small upright plant with vivid red flower clusters. Opposite, a grouping of Anigozanthos flavidus [Section 210] with its 'paw' flowers shaded matt green and deep red.

One obvious plant not included is Epacris longiflora [Section 174] with white narrow tubular flowers dangling from its open upright branches.

In front are grass trees, Xanthorrhoea glauca subsp. angustifolia [Section 60] with its heads of long swaying grass-like leaves….and so to the café.

Many interesting flowers to admire ….Barbara Daly.