In Flower This Week
A weekly news sheet prepared by a Gardens' volunteer.
Numbers in square brackets [ ] refer to garden bed Sections. Plants in flower are in bold type.
View past issues of 'In Flower This Week'.
6 January 2012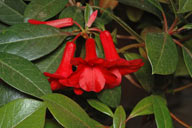 Rhododendron lochiae
click for larger image
The New Year flowers in these gardens continue to enjoy the hot days. Notice the abundance of clusters of white lacy flowers on the large trees, Angophora costata [Section 168] in the north car park. Even the colourful trunks are worth admiring. However this walk is a stroll in the Rock Garden. To arrive there follow the road on the far side of the Rainforest Gully, turning right on reaching the grayish Main Path which will reach the waterfall. Along this path Rhododendron lochiae[Section 110] is a low spreading shrub with an abundance of bright red flared tubular flowers in whorls.

In a clockwise direction and beside the stairs, a teatree Leptospermum deuense [Section 15c] has graceful arching branches clad with prominent white petalled flowers. Opposite, Grevillea 'Poorinda Royal Mantle'[15d] is a dense ground cover clad with many red toothbrush-like flowers, flowing down to the pools below. Brachyscome multifida [Section 15d] is a small mounded plant with soft foliage and dotted with deep mauve daisy-like flowers. Close by is Platytheca galioides [Section 15d], also small, bearing deep blue bell-shaped flowers. Lomandra multiflora [Section 15d] is there too, with arching grey-green strappy leaves and stems covered with deep cream flower spikes. Beside the path Chrysocephalum semiamplexicaule [Section 15d] is low and sprawling with clusters of small bright yellow flower heads on the terminal branches. Dampiera stricta [Section 15f] is a suckering plant with blue flowers, seen crowded between the rocks while on the other side of this bed, Rulingia luteiflora [Section 15f] is a dense medium size shrub clad with small yellow flowers At its base Verticordia pennigera [Section 15f] is pretty with a covering of pink lacy flowers over the dwarf shrub. In the opposite corner behind the seat, the native violet, Viola hederacea[Section 15a] is a low suckering groundcover with almost rounded leaves and an abundance of small white-mauve flowers on short stems.

Edging the upper road groups of kangaroo paws, Anigozanthos flavidus [Section 15h] with rust-red 'paw' flowers on long upright stems are so bright. Scaevola albida [Section 15h] is also bright with a profusion of blue fan-shaped flowers over the low spreading shrub. A plant with white flowers is seen behind. Protruding through the close dense shrub the rich blue flowers of Dampiera sylvestris [Section 15h] a suckering plant, can be seen.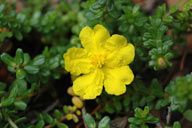 HIbbertia vestita
click for larger image
Take the path down between the grass trees, Xanthorrhoea johnsonii [Sections 15, 14], where, opposite a hedge of Banksia integrifolia [Section 15L] with silver backed leaves, Hibbertia vestita [Section 15k]is a neatly rounded shrub bearing yellow flowers. Across the road Senecio linearifolius [Section 15r] has sprays of yellow flowers on its arching braches while Melaleuca nesophila [Section 15r], of similar size, bears rounded clusters of pink flowers. Opposite, another hibbertia, Hibbertia pedunculata [Section 15s] falls down the rocks, also with small yellow flowers. Around the corner to the left, Goodenia macmillani [Section 15r] is a loosely arranged plant displaying its lovely pink flowers.

Looking towards the waterfall the vista of the ponds with surrounding shrubs, in front, Lythrum salicaria [Section 15q] tall with spikes of purple flowers, and a tall herb, Cladium procerum [Section 15q] densely tipped with brown nuts, with bird calls and not forgetting the Water Dragons of all ages.
Relaxing place, this rock Garden.......Barbara Daly