In Flower This Week
A weekly news sheet prepared by a Gardens' volunteer.
Numbers in square brackets [ ] refer to garden bed Sections. Plants in flower are in bold type.
View past issues of 'In Flower This Week'.
23-30 December 2011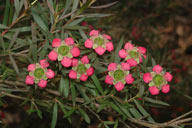 Leptospermum 'Rudolph'
click for larger image
Tis Christmas time and there's many flowers to admire. To walk among the striking white trunks of the eucalypts, the Sydney Basin Flora to the Rock Garden and so through the Rainforest to the Visitors Centre where there is a wall of orchids inside. This walk follows the Main Path which commences at the far end of the Ellis Rowan Garden.

Follow the path where the branches of Kunzea ericoides [Section 11] clad with soft white flowers arch over the path. Eremaea violacea subsp. violacea [Section 10] is a low dense shrub with purple toning while Eremaea beaufortioides [Section 9], also low and dense with heads of orange flowers. The bed of daisies is yellow with flowers including Chrysocephalum apiculatum [Section 303] displaying its small yellow flower heads on short upright stems. Opposite is a group of kangaroo paws, many of which are scattered throughout the Gardens. Here, Anigozanthos flavidus [Section 8] has both matt green and red 'paw' flowers on tall stems.

Leptospermum 'Rudolph' [Section 30] is really showy. This large spreading shrub is clad in profusion with green centred rich pink flowers. Almost opposite, Alyogyne huegelii [Section 30] has large white hibiscus flowers scattered over the dense shrub. Smaller shrubs close by include Grevillea treueriana [Section 30] bearing bright red toothbrush-like flowers from its arching branches and Verticordia galeata [Section 30] quite small clad with bright yellow flowers. Banksia blechnifolia [Section 25] is a dense prostrate plant with upright deeply lobed leaves, the new leaves a tan colour and reddish brown upright flower spikes, all appearing to sit on the ground. There too is Banksia petiolaris [Section 25] with similar structure but with upright narrow toothed leaves and pale green flower spikes. At the corner Grevillea 'Coconut Ice' [Section 25] displays its large terminal red flowers on the low spreading shrub. Across the road grevilleas include Grevillea 'Lady O' [Section 26] is dense with fiery red spider-like flowers. Edging the path Grevillea 'Poorinda Adorning'[Section 24] is low and spreading bearing bright red spider-like flowers.

The path then wanders through the Sydney Region Gully where Scaevola hookeri [Section 191s] is a dense groundcover speckled with tiny white fan-shaped flowers. At the turn-off to the Hothouse containing many interesting plants, Scaevola albida [Section 191j] has a covering of pink fan-shaped flowers over the low shrub. Christmas Bells, Blandfordia grandiflora [Section 191u] dangles its red with yellow bells on upright stems. Towards the exit to this section flannel flowers, Actinotus helianthi [Section 191 l] display their soft white flowers with velvety grey foliage and Scaevola ramosissima [Section 191 l] creeps about the rocks with purple flowers along the small vines.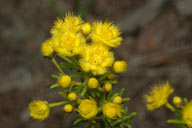 Verticordia galeata
click for larger image
Stroll across the Eucalyptus Lawn to the Rock Garden laden with interesting flowers. At the entrance in a pot, Ptilotus exaltatus var. semilanatus [Section 15r] is a small herb with tinsel pink flower balls. Beyond the relaxing waterfall Grevillea robusta [Section 78] displays its large golden flower spikes seen above the tree tops and in front, about the rocks the water dragons sunbake. So to the Rainforest Gully, so cool, so green at its exit, Rhododendron macgregoriae x lochiae [Section 313] low spreading shrubs beautiful with bell shaped open clusters of orange-red flowers. Then down the ramp to the Visitor Centre.

These gardens, a place of beauty, of relaxation, a joy to all who walk among our wonderful Australian plants, the birds and water dragons too. Season's Greetings to you all.

Barbara Daly