In Flower This Week
A weekly news sheet prepared by a Gardens' volunteer.
Numbers in square brackets [ ] refer to garden bed Sections. Plants in flower are in bold type.
View past issues of 'In Flower This Week'.
16 December 2011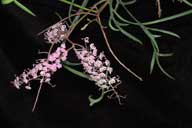 Grevillea leptobotrys
click for larger image
This walk follows the road beside the Rainforest Gully but first view the Green Mallee Ash, Eucalyptus langleyi [Section 172] beside the stairs to the Visitors Centre. The tree is young and now in full bloom with cream fluffy flowers. Beside the doors, Grevillea leptobotrys, in a pot, has a profusion of strands of pink flowers. A climber, Pandorea jasminoides [Section 212] shows off its large bugle shaped pink flowers, climbing about the wall. Along Banks Walk, Scaevola aemula 'Aussie Crawl' [Section 174] is ablaze with deep purple fan-shaped flowers over the dwarf plant. As of elsewhere in the gardens, kangaroo paws of all shades are flowering well. Here, Anigozanthos 'Bush Noon'[Section 174] displays its pink-cream paw-like flowers on long upright stems surrounded by shorter strappy leaves.
Following the road on the far side of the Rainforest Gully Clerodendrum floribundum var. attenuatum [Section 125] now has many mature white petalled flowers among the foliage of these tall slender shrubs. Covering old tree trunks edging the road orchids Cymbidium suave [Section 125] are dense with long arching sprays of tiny brownish-green flowers among the long leaf spikes. Cuttsia viburnea [Section 125,114] continues to bear dense clusters of white daisy-like perfumed flowers on the tall shrubs.

Across the road smaller plants include Melaleuca linariifolia 'Snowstorm' [Section 124] with upright papery trunks and crowned with feathery cream flowers. Grevillea 'Goldfever' [Section 124] is a low spreading shrub with apricot coloured flowers while Melaleuca thymifolia [Section 124] is an upright medium size shrub with white feathery flowers.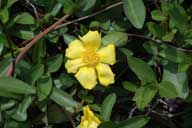 Hibbertia scandens
click for larger image
Turn off on the Main Path to view a Wollemia Pine, Wollemia nobilis [Section 110] erect shrub with lateral leaves and displaying many pendent cones on the upper branches with fresh green new growth on this tall tree. Edging the Main Path native violet, Viola hederacea [Section 104] is a dense groundcover bearing many tiny white–purple flowers. From the curved corner Grevillea robusta [Section 78] tall trees with canopy of brilliant gold flowers enjoyed by many birds, can be seen. A low shrub arching towards the road, with bright red bottlebrushes and pinkish new growth is that of Callistemon montanus [Section 104]. Close by Hibiscus splendens [Section 104] is of medium size, has showy cerise flowers among its flannel-like foliage. In the triangle bed opposite, plants include kangaroo paws of varying colours, as Anigozanthos flavidus [Section 17] coloured matt green, Anigozanthos 'Bush Ruby'[Section 17] with crimson coloured flowers and Anigozanthos 'Bush Dawn' [Section 17] with yellow flowers. In the centre of the garden, wax plants, Chamelaucium uncinatum 'Murfit Rose'[Section 17], yet small open shrubs with cerise coloured flowers. Uphill edging the rainforest, Hibbertia scandens [Section 140] displays large yellow flowers on the ground covering vine while close to the opposite stairs, Banksia speciosa [Section 36] is a large dense shrub with long narrow deeply toothed leaves and flower spikes coloured pale green, some resembling acorns.

Returning, possibly via the Rock Garden then down towards the coffee shop, a reward must be the Blueberry Ash, Elaeocarpus reticulatus 'Prima Donna' [119]. It is a tall dense shrub laden with downturned pink fringed flowers.
Such great Australian plants … Barbara Daly.